Comics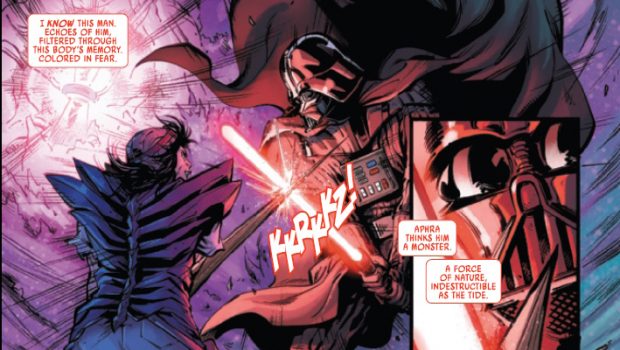 Published on April 17th, 2023 | by Tim Chuma
Star Wars: Doctor Aphra #30 Review (2020)
Summary: Overall a more satisfying conclusion to the Spark Eternal story arc than they managed with Hidden Emprie and that was meant to be the main story! Stay away from trying to cram anything else into OG Star Wars I think.
The story of the Spark Eternal definitively ends. Seems like even War of the Bounty Hunters was just a background to this story. It will take the combined effort of all of Dr Aphras friends to try and save her even if it means the attempt to trap Darth Vader and Emperor Palpatine in the Fermata Cage fails.
Overall I would say this was a better outcome than Hidden Empire managed which was even more of a damp squib than the last story arc. Was pretty cool seeing Doctor Aphra actually fighting with Darth Vader as normally she is scared of him and has to trick him to get away.
There is more of this story in the Hidden Empire series if you really need to see it.
From what I have heard with the "Dark Droids" series this story is going to start a new character arc but I am not sure if two droids in particular will make it.
I would recommend getting this series as a trade paperback as Doctor Aphra is a cool character and hopefully she turns up in one of the Disney+ series in the future. Nothing seems to be off the table at the moment.
Comic details:
Writer: Alyssa Wong
Penciler: Minkyu Jung
Cover Artist: Ema Lupacchino, Rachael Stott
Publisher: Marvel
Published: April 12, 2023