Comics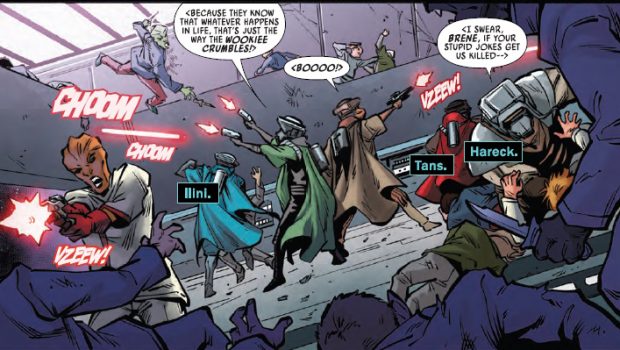 Published on February 1st, 2023 | by Tim Chuma
Star Wars: Doctor Aphra #28 Review (2020)
Summary: A lot of action in this one and some big resolutions, moving swiftly towards finalising the series.
Sana and the crew go back to Domina Tagge to do the job for Ronen only to find he is coming to finish the job. Things look grim but Domina always has a backup plan. It all ends rather abruptly and it seems it will go back to Doctor Aphra in the next issue.
Was good to see Boush and his crew still around especially when they use Crimson Dawn codewords and then just shoot people. This ended pretty much how I thought it would but there is still no indication as to who is going to survive until the end of this series.
More than enough action in this one even if the main character really only shows up at the end. They do seem to be trying it into the Hidden Empire storyline but not as much with previous stories.
Worth a look if you are still on board with this series.
Comic details:
Writer: Alyssa Wong
Penciler: Minkyu Jung
Cover Artist: W. Scott Forbes
Publisher: Marvel
Published: January 25, 2023