Comics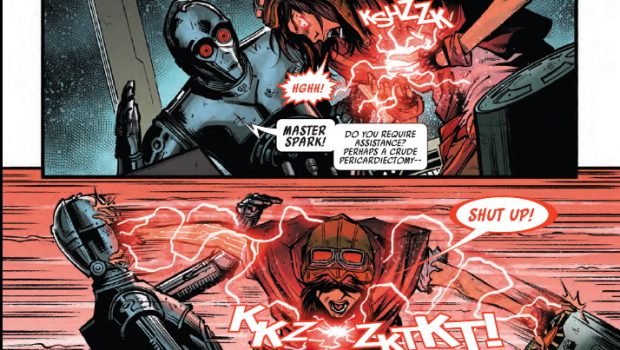 Published on January 3rd, 2023 | by Tim Chuma
Star Wars: Doctor Aphra #27 Review
Summary: Seems to be a cycle of these where they have a big event and then exposition for the next issue. It is going somewhere eventually but this one is just OK.
Sannos and her crew are rescued from the wreckage of their ship and find themselves facing down Ronen Tagge who offers to pay their debts from the bacta tank treatments if they do something for him. Meanwhile the Spark Eternal finds that Doctor Aphra deliberately made it so it would "slice" into her droids so she could reverse hack it. They come to a deal also but not really what Doctor Aphra had in mind.
This is another issue that seems to be bridging between larger events in the Hidden Empire storyline. Not that I am going to read every single issue of the all the character comic books but they seem to be spreading it out a bit better this time unlike War of the Bounty Hunters were it would cut across from one to the other and not make sense unless you read them all.
I can't really say what is going to happen with all the storylines but I think they will find the only way they can be rid of the Spark Eternal is to put it in the Fermata Cage. Darth Vader will somehow help Doctor Aphra do this.
Worth picking up this one if you are still following the character and the Hidden Empire storyline.
Comic details:
Writer: Alyssa Wong
Penciler: Minkyu Jung
Cover Artist: W. Scott Forbes
Publisher: Marvel
Published: December 28, 2022