Comics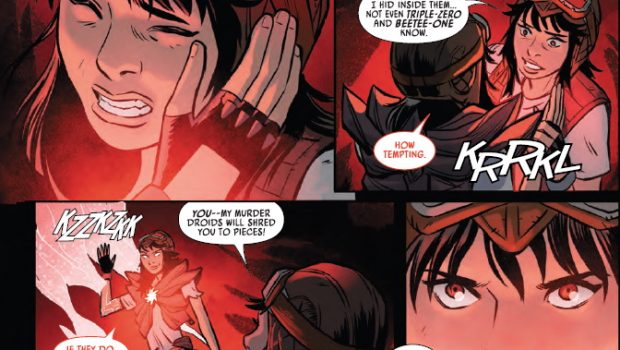 Published on July 31st, 2022 | by Tim Chuma
Star Wars: Doctor Aphra #22 (2020) Review
Summary: Worth a look if you have been following the series up to now. I really don't know how this is going to work out at this point.
Dr Aphra is trapped in her own mind with the Spark Eternal running the show and going through her memories looking for something. It turns out most of the artifacts that she has ever gone after have something to do the Ascendant and the Spark Eternal recognised her from when she used one of the artifacts on the Crimson Dawn flagship to get out a situation.
This is not really a direction I had expected the Doctor Aphra story to go in but it seems to be working out quite well. To be fair the character has been worse situations than this and still gotten out of it but it is exciting in this case as you really do not know what is going to happen as everyone that could help her is out of the picture at this point.
Well worth looking at if you are liking the storyline so far although it may be confusing to come into this late in the game. I have dipped out on most of the individual stories after the War of the Bounty Hunters finished but I am still following this one as I want to see where it leads.
Comic details:
Writer: Alyssa Wong
Penciler: Minkyu Jung, Natacha Bustos
Cover Artist: W. Scott Forbes
Publisher: Marvel
Published: July 27, 2022