Comics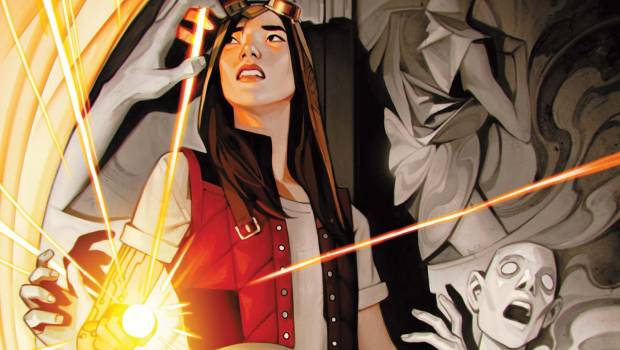 Published on July 22nd, 2020 | by Tim Chuma
Star Wars: Doctor Aphra #2 (2020) Review
Summary: Dr Aphra is up to her old tricks again and this time she's bought her gang along.
4
Queer Space Indiana Jones
Dr Aphra and her crew are off on another adventure after only just escaping from Darth Vader and having their ship blown up. They get a message from someone Dr Aphra did a job for and then stole from as she didn't like their attitude and now his after them and the mysterious Rings of Vaale meant to only exist in legend.
I had been looking forward to this series after reading the bridging story in the Star Wars universe that mentioned this character. I don't know what happened to the first issue it said it came out a couple of months ago but I never saw it. Marvel had stopped production for a while.
Dr Aphra is already a character a lot of people like and is sort of a queer space Indiana Jones type with more moral flexibility. She has been dumped out in space without a spacesuit at least twice by people who were upset with her and has variously helped and hindered the Empire so Darth Vader is looking to choke her out. Palpy no doubt thinks it is funny as he always does.
This does look like it is going to be a good series and this story is a bit slower than something like the Bounty Hunters comic or the Darth Vader solo story but they do some great world building in this one including going into the deep lore of the Star Wars universe.
Hopefully this character goes on to do more so she can get her own TV show or at least appear in some of the other ones.
I would recommend this one if you like Star Wars and want something a bit more varied than the usual sausage party a lot of the other stories turn into.
Comic Details:
Writer: Alyssa Wong
Penciler: Marika Cresta
Cover Artist: Valentina Remenar
Published: July 22, 2020