Comics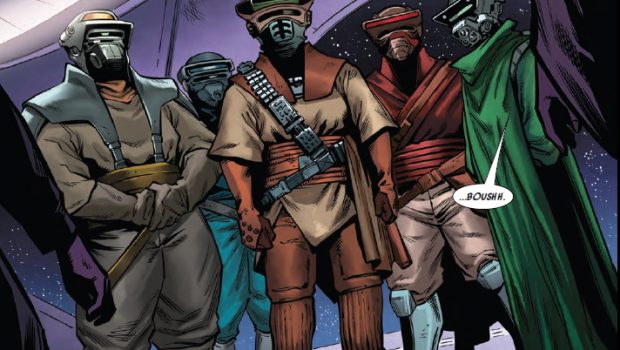 Published on March 29th, 2022 | by Tim Chuma
Star Wars: Doctor Aphra #19 (2020) Review
Summary: Nothing really wrong with this one, it just seems to be filling in more of the backstory of the characters that you will get more out of if you are already following the story.
As Doctor Aphra and Sanna Starros speed back towards they college where they first met, Ko Phon Farrus has beaten them there and ends up in the professor's office where they got her to steal an artifact back when they were all first going to college. Turns out the Spark Eternal may have been closer to them than they all thought. Domina Tagge tries to ring Aphra while they are on the way there but gets the old "bad signal" excuse, leading to Ronen Tagge saying she is going to get burned like he did dealing with her.
Another story that seems to be leading to something bigger but not that much happens in this particular entry apart from backstory and important stuff about how the characters all knew each other. I liked the professor knowing that Ko Phon Farrus was waiting outside the door and the first thing Aphra did when they first met was getting her to steal something for her.
It's not so much that Doctor Aphra deliberately goes out of her way to upset people, it's just in her nature it seems. Even Darth Vader has force annoyance to sense when she is near so she tries not to be in that situation too often.
Worth a look to anyone who has been following the story for a while buy maybe a bit confusing if you are only coming in now. The first volume of the trade paperback for the entire storyline is now out if you want to go back and read from the beginning.
Comic details:
Writer: Alyssa Wong
Penciler: Minkyu Jung
Cover Artist: W. Scott Forbes
Publisher: Marvel
Published: March 23, 2022