Comics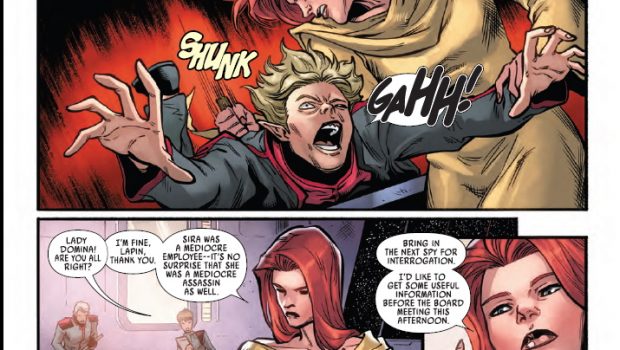 Published on November 23rd, 2021 | by Tim Chuma
Star Wars: Doctor Aphra #16 (2020) Review
Summary: While not that fast-paced action wise, it does show the consquences of the characters actions in previous episodes of the story.
Dr Aphra and her offsider are still dealing with the after effects of the events with the Crimson Dawn. Aphra's electro-tattoos are destroyed and no one can fix them. Even though she does not want to, she accepts that it would be for the best to go back to Domina Tagge to get them fixed even though it is dangerous for her. Domina is still dealing with assassins and spies in her organisation and is most pleased with the information Dr Aphra stole. She agrees to fix Aphra's tattoos but has a job for her.
This reminds me of some of the other main Star Wars comics when I get a story and something important has just happened in the previous episode. Even though it is mainly just characters dealing with the consequences of their actions and the time between major events there is still some good parts in it. I did like Dr Aphra gushing at her positive performance review as opposed to being double-crossed and left for dead or thrown out an airlock which tends to happen a lot.
All the characters in the series are going off in separate directions again it seems and it not really clear when they will come back together again.
I would recommend this one if you are a fan of this character and want to read something a bit more slower-paced than the usual action stories that she is involved in.
Comic details:
Writer: Alyssa Wong
Penciler: Minkyu Jung
Cover Artist: Sara Pichelli
Publisher: Marvel
Published: November 17, 2021