Comics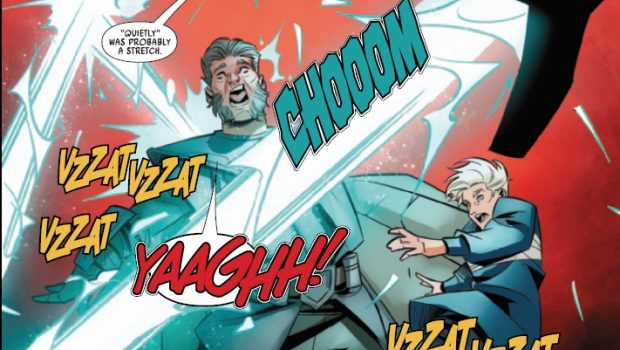 Published on September 13th, 2021 | by Tim Chuma
Star Wars: Doctor Aphra #14 (2020) Review
Summary: The story moves on from the War of the Bounty Hunters storyline which should please fans of this character who want her to do her own stuff.
Dr Aphra and her offsider are sent to the brig of the Crimson Dawn ship only to find some people she knows from previous adventures who also have a beef with her. What's new at this point? Before she can figure out a way to escape the person who put the other two into imprisonment comes back and tells her to stop fiddling with the door (must have heard about her previous shenanigans). They do manage to get out but end up in worse trouble as always.
Dr Aphra and the other characters that were the b-plot of this particular story finally come together but I am still none the wiser as to what it has to do with the main story. Dr Aphra is ice cold and will not hesitate to gun down people who get in her way even if it was not her technically pulling the trigger. She is still blinded by greed and has to go after the big prize even if it gets them all in trouble.
Not really clear where this story is headed at this point but it is still fun to follow the adventure. The main War of the Bounty Hunters event seems to have moved on now so each of the stories that came together at this point can go off and do its own thing without having to refer to other episodes to get what is going on.
I can get why they do the crossover events and it would have gained more interest in the series but it is good that now seems to be over since Dr Aphra can get back to her own adventures. As usual this is more for fans of the character rather than Star Wars in general.
Comic details:
Writer: Alyssa Wong
Penciler: Federico Sabbatini
Cover Artist: Sara Pichelli
Publisher: Marvel
Published: September 08, 2021