Comics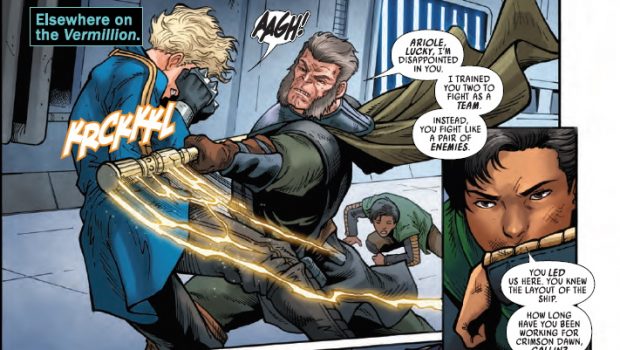 Published on August 30th, 2021 | by Tim Chuma
Star Wars: Doctor Aphra #13 (2020) Review
Summary: This feels like a b-plot compared to the rest of the War of the Bounty Hunters storyline but is OK suppose.
Still on the War of the Bounty Hunters storyline and there are two other plots in this issue that are moving on. I still don't know what the non-Aphra characters are doing still but at least there is the stuff with Aphra's history with Darth Vader that this brings to light and why she is so frightened of him that even the sight of him would paralyse her with fear.
Dr Aphra is more of an adventurer and opportunist and not really that good in a straight up fight where she tends to come off second best when force of arms is involved. She will let herself get captured and just trick her way out of the situation later which she has done several times by this point even in this series before we got to this point.
She is still trying to keep the identity of the person who hired her to attend the auction a secret, but is always looking to make a profit for herself. It is interesting that the writing is so good that you can feel empathy for a character that is supposedly so selfish and mainly cares about money but the Star Wars universe is a brutal place and only helps people who help themselves a lot of the time.
At this point I would be recommending War of the Bounty Hunters rather than trying to follow all of the different storylines just to save confusing yourself. If you are already on-board with Dr Aphra then keep going with it just to see what happens with the threat of Darth Vader.
Comic details:
Writer: Alyssa Wong
Penciler: Minkyu Jung
Cover Artist: Sara Pichelli
Publisher: Marvel
Published: August 25, 2021