Comics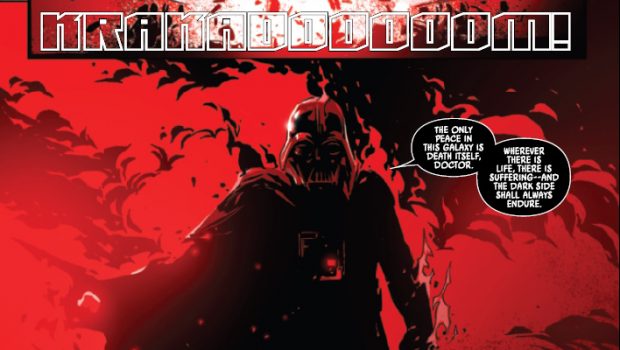 Published on May 29th, 2023 | by Tim Chuma
Star Wars: Darth Vader – Black, White & Red #2 (2023)
Summary: More horror-leaning this time. Worth a look even if you are not following any of the comics or just like Darth Vader.
Darth Vader returns in a bunch of un-related to the main storyline stories but still of interest to those who are a fan of this character. The Black, White and Red format lends itself to narrative sparseness as they are never that narrative-heavy due to being their own story.
There is quite a bit of blood in one of the stories this time and it does lean to more horror type stories.
I was surprised that they did go down the "from a certain point of view" line with a young child on a planet being bullied only to have a bigger tyrant turn up in the form of Darth Vader and the child likes it.
While not as out-there as the previous issue with PEACH MOMOKO this is still different enough from the other Star Wars comics that I would recommend this one even to people who are not really into the comics.
Well worth your time and this will be a great one to get as the collected edition once it finishes its run.
Comic details:
Writer: David Pepose, Jason Aaron
Penciler: Leonard Kirk
Cover Artist: Adam Kubert
Publisher: Marvel
Published: May 24, 2023