Comics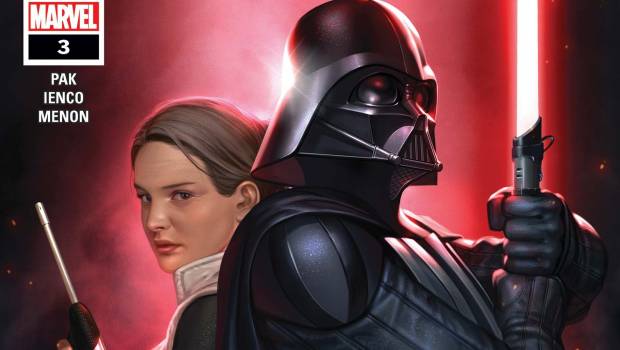 Published on July 31st, 2020 | by Tim Chuma
Star Wars: Darth Vader #3 (2020)
Summary: Darth Vader and Sabe continue their secret mission to find Padme's killer and end up on Naboo. Who is deceiving who?
Darth Vader and Sabe arrive back at Naboo on a secret mission, but are immediately attacked by guards loyal to Naboo. Darth Vader says anyone who attacks him only gets to live if they prove their worth. Imperial forensics robot ZED-6-7 gives one of his "well, he didn't kill you" quips and suggests they do what he says. Their mission leads them down to the depths of Naboo, what will they find down there?
While not as heavy on action as previous entries in this series (barring the odd giant beastie or two), this is a great story and set up of what is to come. Darth Vader already knows the Naboo agents are trained in espionage and deception, but who is fooling who?
There were some great story details in this such as people mourning Anakin Skywalker as well as Padme as at this point everyone just thinks Anakin had gone missing after the death of Padme.
Some missing backstory is filled in that wasn't even covered in the Clone Wars series about Senator Padme also going looking for Anakin's mother on Tatoonie without his knowledge.
What I enjoyed most about this entry and indeed this series is that it does give more light and shade to the character of Darth Vader as he is not just evil like he is portrayed in the movies. There are also many books both cannon and non-cannon that cover this but I have not read them.
While not really an essential purchase for the casual Star Wars fan, if you are already following this series or are into Darth Vader at all and want to see him play detective I would recommend this.
Comic details:
Writer: Greg Pak
Penciler: Raffaele Ienco
Cover Artist: In-​Hyuk Lee
Published: July 29, 2020