Comics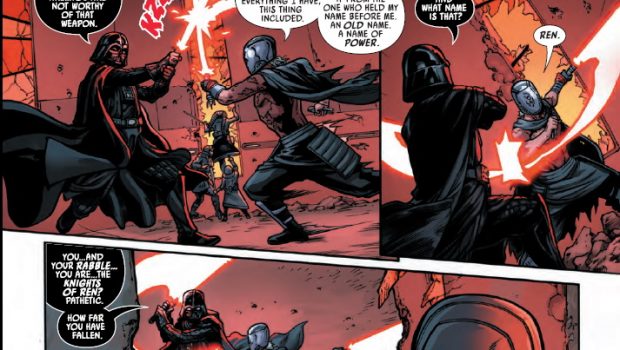 Published on May 3rd, 2022 | by Tim Chuma
Star Wars: Crimson Reign #4 (2021) Review
Summary: A lot of action and moving the plot forward but I can't really see what direction the Crimson Reign storyline is going in at the moment.
Lady QI'RA tasks the Knights of Ren to steal something important from Vader's Castle on Mustafar as she knows they need the work and no one would expect it. Things go wrong when Vader is there waiting for them and the Knights realise they are now elevated on the Empire's hit list.
Even though Mustafar seems like a running track by this point as so many stories have been set there they did manage to do something different having the Knights of Ren go in the "back way" and while they are not Jedi or Sith they do call the force "the shadow" so are force sensitive in their own way.
This is more back story for the Knights of Ren that was in the Disney trilogy so how much you will get out of it depends on how much you liked Kylo Ren and want to find out more about the group he was hanging around with previously. This is set before he was born so it is the original leader of the group.
I still can't really see where this is going as a series but then again I am not as into the series this time as I was with War of the Bounty Hunters and am not going through every character's storyline for this.
There is nothing bad about this and it has plenty of action so it if you are on board for the Crimson Reign storyline you will enjoy it.
Comic details:
Writer: Charles Soule
Penciler: Steven Cummings
Cover Artist: Leinil Francis Yu
Publisher: Marvel
Published: April 27, 2022