Books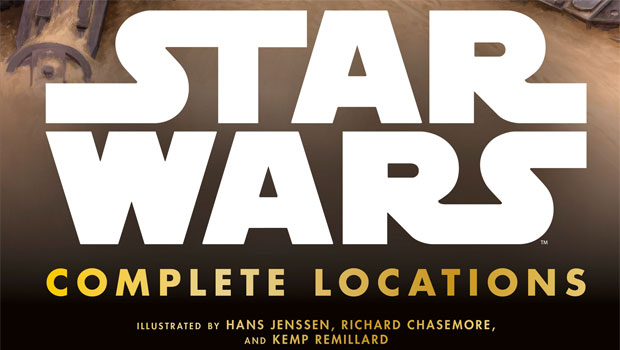 Published on December 24th, 2016 | by James Wright
Star Wars: Complete Locations Updated Edition Review
Summary: Star Wars: Complete Locations Updated Edition is a true post card of this wondrous universe and you'll be not only entertained but quite informed after finishing this book!
This tome of Star Wars goodness is the perfect gift to get yourself lost in this timeless universe created by the legendary George Lucas. In essence, it takes the viewer behind the amazing locations from all the main films that begins in Star Wars: Episode I – The Phantom Menace up until last year's Star Wars: Episode VII: The Force Awakens. The book is written by Kristin Lund, Simon Beecroft, Kerrie Dougherty, James Luceno and Jason Fry that through their extensive research have created a very detailed book about the extraordinary places from the Star Wars universe with illustrations by Hans Jenssen, Richard Chasemore and Kemp Remillard. The foreword of the book is also written by Dough Chiang who was the Production Designer on Episodes I-III and VII. This introduction not only highlights Doug's passion but touches upon the production process of the films with some interesting facts about thought came to life on the big screen.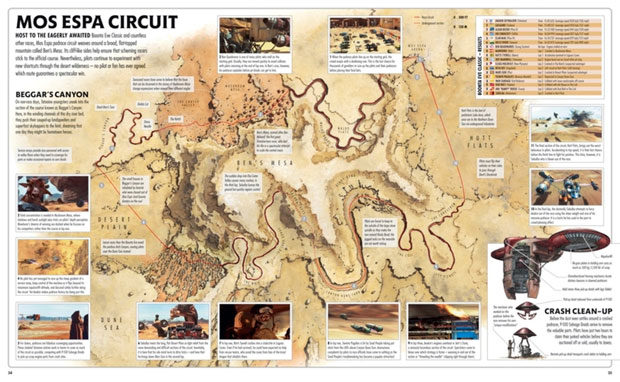 At almost 200 pages, this hardcover book is split into seven chapters that mirrors the films chronologically and focuses on the many locations from this franchise that includes the various planets, cities and battles from this sci-fi series. It even details planet sizes and places such as Yoda's house on Dagobah to Anakin Skywalker's hovel on Tattooine or the beautiful and corrupt cities of Coruscant with some unparalleled detailed as it breaks down each area with some thought-provoking bite sized chunks of information.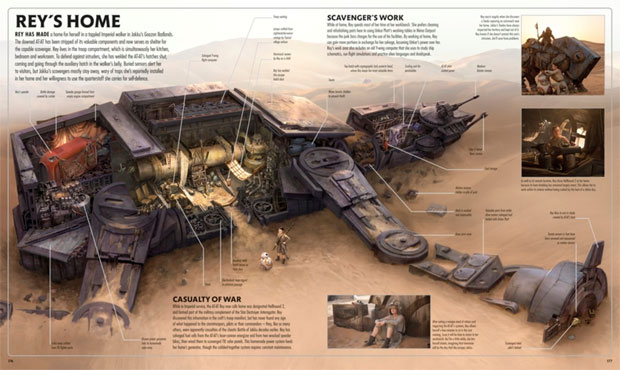 The book even boasts some very impressive foldouts like Mos Espa Arena which basically dissects this speedway to a four page spread of Starkiller Base and even Echo Base on Hoth. However before each chapter there is a double page spread with a photo from the film and a little blurb about what that film was about such as The Phantom Menace which saw the Galactic Republic engulfed in turmoil with the Supreme Chancellor sending two Jedi Knights on a secret mission to help uncover those responsible and help bring peace back to the galaxy.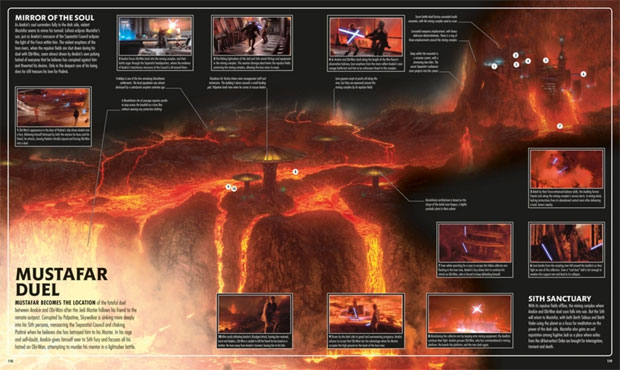 Besides places, this book contains information about the various battles from the films, including some of the vehicles and troops used to fight and more importantly, the Death Star (Episode 3) and the Death Star II (Episode 6). Another interesting few pages was the planet of Mustafar which was where Anakin was severely injured by Obi Wan Kenobi and is also a Sith sanctuary. This location played a part in Rogue One: A Star Wars Story which looks like something out of hell itself.
I also found the Dagobah section a joy to read as Empire Strikes Back was my favourite film from the franchise and the information and images really help flesh out this planet, including Yoda's house and that this Jedi master hand-build this home for himself. Want to know what a LAAT/C is or what's on the planet of Pois Massa or the inner workings of Darth Vader's Meditation Chamber? It's all discussed in this book with some wonderful imagery.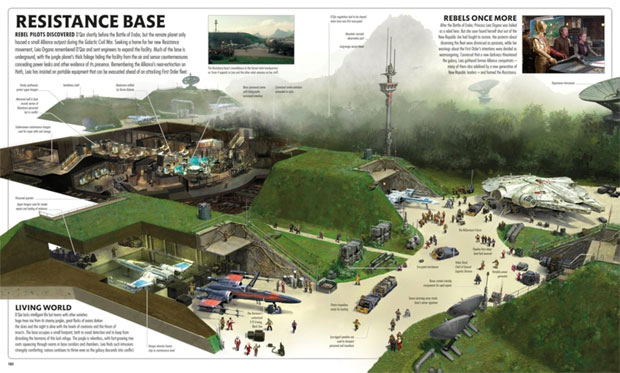 One aspect about the book is that it does focus more on the prequels which were Star Wars: Episode 1: The Phantom Menace, Star Wars: Episode 2: Attack of the Clones and Star Wars: Episode 3: Revenge of the Sith. I'm guessing that not all of the production information were available from the older films but nonetheless each section was equally as interesting, particularly the text that accompanies that particular section. But being a fan of the original films, I would have enjoyed a bit more content.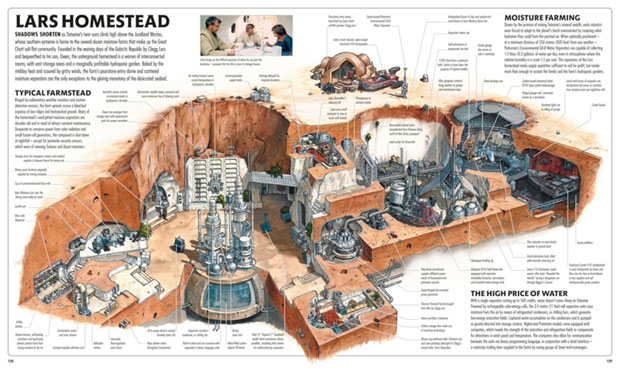 It should also be noted that opposed to the previous version, this updated edition contains eight brand new artworks and an incredible range of location cross-sections, illustrations plus and photographs. It's a shame that this book does not include the latest film in the series, Rogue One: A Star Wars story because I would have loved to have more information about Jedha which is dubbed as the birth world of the Force.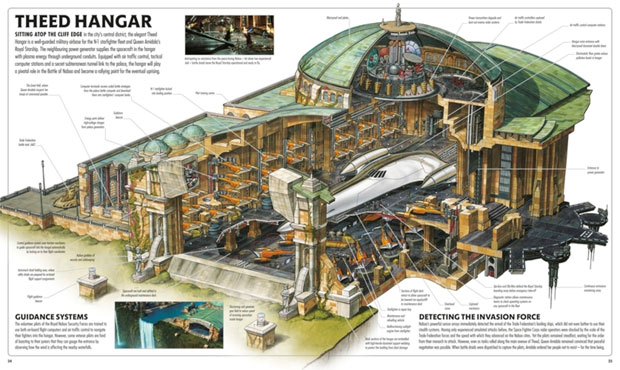 Final Thoughts?
Star Wars: Complete Locations Updated Edition is really aimed at the Star Wars fan and although some artistic liberty is take into detailing some of the areas showcased in this hardcover book, it has been given the official blessing by both Lucasfilm and Disney which definitely makes this an authentic product. So if you're looking to explore this galaxy far far away, the Star Wars: Complete Locations will give you hours upon hours of enjoyment as you are taken to a galaxy far far away.
Recommended!