Games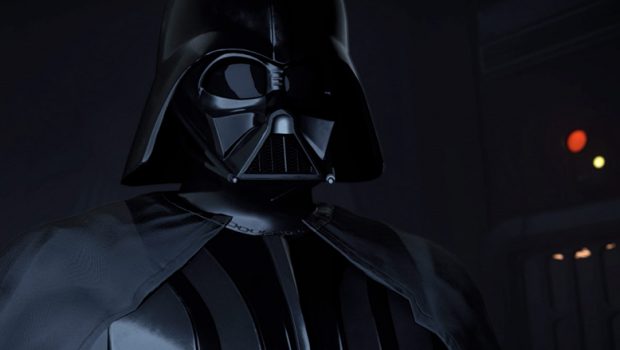 Published on May 1st, 2019 | by Admin
Star Wars Celebration: Vader Immortal by ILMxLAB Is Coming to Oculus Quest—and the Rift Platform!
TL;DR: Today, Head of Media, AR/VR Experiences Colum Slevin took the stage with our partners from ILMxLAB on stage at Star Wars Celebration, where they confirmed that this narrative-driven interactive experience will come to the Rift Platform following Oculus Quest launch. Sign up for updates at oculus.com/vader-immortal.
Star Wars Celebration: Vader Immortal by ILMxLAB Is Coming to Oculus Quest—and the Rift Platform!
When I think back to one of the first times I felt present in a virtual experience, it was 1983 and I was flying the Death Star trench run in the cockpit of a Star Wars arcade cabinet. For as long as my 10p coins could carry me, I was the pilot of an X-wing starfighter shooting down TIE fighters. I was Luke Skywalker in a dogfight.
That moment came back to me in full force when I first experienced Vader Immortal: A Star Wars VR Series from ILMxLAB. The Star Wars universe has always been a place audiences yearn to inhabit and with Vader Immortal we are excited to give them that chance. We gave the community a glimpse of what's to come back at Oculus Connect in September. And today, I joined the ILMxLAB team on the Star Wars Celebration stage to share even more.
Vader Immortal is a narrative-driven experience that brings you face-to-helmet with Darth Vader on his home turf. The first episode will debut as a launch title for Oculus Quest. And I'm excited to share that it's also coming to Rift and Rift S, bringing this experience to our core VR fans who have been with us on this journey from the beginning.
This is more than a 2D story transported to a 360° environment. Vader Immortal is an interactive, narrative adventure, set in the most iconic of universes. Far from a passive observer, you're an active participant with agency, wielding a lightsaber as the story unfolds.
In many ways storytelling remains the Holy Grail of VR, one of the last unsolved mysteries. The ILMxLAB team are fundamentally concerned with cracking this code, and Vader Immortal pushes that boundary further than we have seen. The story here is surprisingly emotional. It'll make you sad. It'll let you feel for a character in a way you haven't before. It'll scare you—trust me. All of this in ways that are unimaginable in another medium.
The promise of VR has always been that it can transport you to places you can't otherwise go. This is one of the fundamental wonders of the medium, but it's just the beginning. What will you do in those brave new worlds? What stories will you encounter? And what new friends—or enemies—will you encounter?
What makes Vader Immortal so exciting is that this kind of story, this kind of moment in the Star Wars canon, can only happen in VR.
As we push technology to new limits, we also bring new possibilities to storytelling. VR is a game changer for content creators, and we certainly saw that here. ILMxLAB's belief in the power of VR as a transformative storytelling tool is why we partnered with them from the start.
Oculus Quest unlocks new ways to create. The untethered form factor of Quest is a small revolution in and of itself. You'll see what I mean the moment you fire up a lightsaber and wield it in your hands.
Rift S combines improved optics and a higher resolution display with the full power of your PC for a sharper picture and more immersive experience than ever before.
When the Star Wars vector-based arcade game cabinet came out originally, it promised "the ultimate fantasy." It certainly felt that way back then. But being a part of the Star Wars universe at the time took a hulking 450-pound seated experience—one my mum would not let me bring home as much as I pleaded. Now, not only can I bring the experience home, I can inhabit the universe and play a role in its story in ways my childhood self could never have imagined.
Soon, you'll be able to pick up your Touch controllers and put on your headset to begin your adventure—wherever you are. In that moment, you'll have no doubt that your ultimate Star Wars fantasy was just the beginning. The circle, as Lord Vader said, is now complete.