Comics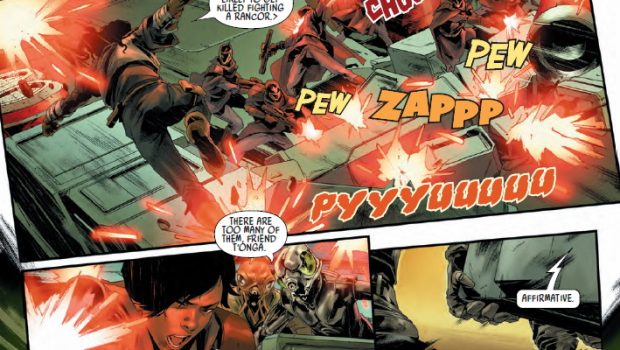 Published on June 20th, 2022 | by Tim Chuma
Star Wars: Bounty Hunters #24 (2020) Review
Summary: This is fine but it suffers from having to go backwards between the two different groups, maybe check back next issue for something big
T'Onga and the crew continue their story and Valance tries to stop an assassination attempt only to be told he was not doing his job when he saves innocent bystanders. Dengar reveals he is trying to play both sides of the street by taking two different jobs and expecting each of the sides not to find out. There is an ending in site but I am not sure who will make it out except for one or two of them.
While it was good to be back with T'Onga and the gang this story did try to have two stories at once and was not as focussed as a result. It is not really clear what is happening where or how these groups are going to interact with each other. The crew will be gunning for Dengar if they get out of their current predicament for sure.
I am not really feeling the Crimson Dawn storyline at all, before I got burnt out on it the War of the Bounty Hunters did seem like a big event and had real stakes. This one just seems like a follow up and not as exciting for some reason.
I would recommend this one if you are still enjoying the adventures of these characters, everyone else maybe wait until next issue where there looks like there is going to be something big going down.
Comic details:
Writer: Ethan Sacks
Penciler: Paolo Villanelli
Cover Artist: Giuseppe Camuncoli
Publisher: Marvel
Published: June 15, 2022