Comics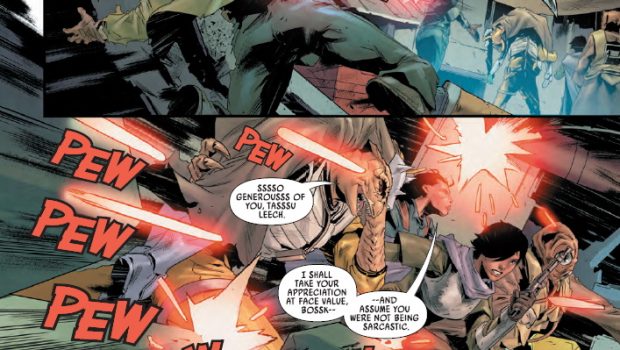 Published on April 12th, 2022 | by Tim Chuma
Star Wars: Bounty Hunters #22 Review
Summary: T'Onga and the crew engage in a truly epic battle to escape from last time but that is only the begining of their story.
It's on for young and old when T'Onga, Bossk, Tasu Leech, Zuckuss, 4lom and Losha are attacked by pretty much the entire Unbroken Clan after kidnapping the leader which I am sure is for a reason but that does not really matter at the moment they are just trying to survive at this point. The Crimson Dawn makes its presence known and will be important in later parts of this story.
For some reason this one came out not that long after the last issue or I have ended up reviewing the previous part of this just last week for some reason. While this is good if you are following the story, you don't want to put too many things out at once.
I do not know if the Crimson Reign storyline will go too much into the crossover territory again but I am not going to follow every story again if it does I am happy with following these characters for now and maybe the main story.
Well worth following if you are enjoying these characters and want to see them do well. Even if things do not work out for the best they have had quite the adventure already.
Comic details:
Writer: Ethan Sacks
Penciler: Paolo Villanelli
Cover Artist: Giuseppe Camuncoli
Publisher: Marvel
Published: April 06, 2022