Comics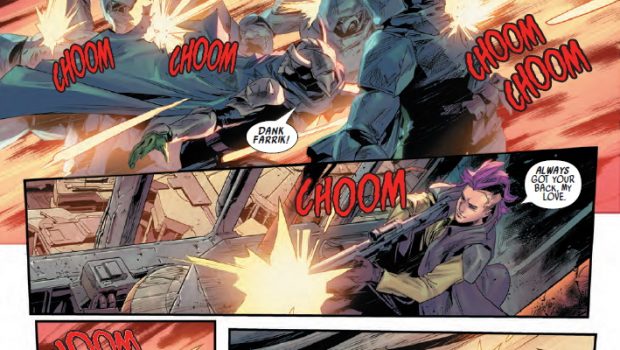 Published on April 4th, 2022 | by Tim Chuma
Star Wars: Bounty Hunters #21 (2020) Review
Summary: T'onga's gang finally gets their plan together and goes in for their big score. Worth having a look at as I like hanging out with these characters now.
T'onga's crew including Bossk, Tasu Leech, Zuckuss, 4-Lom and Losha finally get to the planet with the crime boss they are trying to kidnap but it seems suspiciously easy. Are they walking into a trap?
With Valance off doing work for Vader now and the events of War of the Bounty Hunters over and done with and the Crimson Dawn winding up this story is a nice diversion with this crew off doing their own thing seemingly for their own reasons that do not involve working for anyone but themselves.
Special mention must go to the "finger guns" now being officially canon in this story (not long before they open up with the big guns.)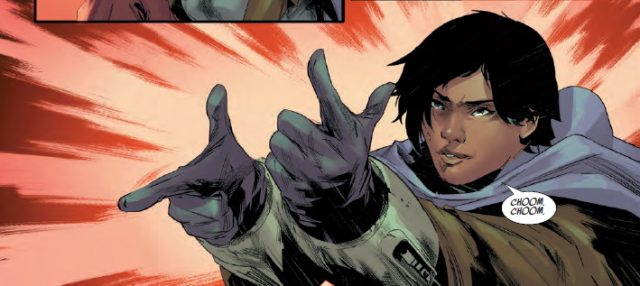 Also Tasu Leech revealing he can speak Basic but does not do it that often as he has a thick accent. Has also been said he thinks "it is a weak language for weak people." I did like seeing Tasu Leech getting his own fight scene and getting to go up against one of the pit fighters he defeated before.
Everyone gets their moment in this at some point or another as they are all on the line at making this job a success.
I enjoyed this one and would recommend this if you are still following this series after all the big storyline events as I enjoy these characters and want to see more of them.
Comic details:
Writer: Ethan Sacks
Penciler: Paolo Villanelli
Cover Artist: Giuseppe Camuncoli
Publisher: Marvel
Published: March 30, 2022