Comics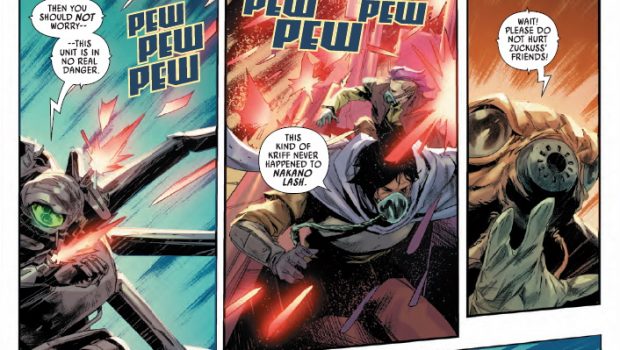 Published on January 17th, 2022 | by Tim Chuma
Star Wars: Bounty Hunters #20 Review
Summary: A nice follow-up to the 4-LOM and Zuckuss one-shot. I didn't think they would have much else to do in this comic now that Valance is off with Darth Vader but they are going in a different direction.
4
4-LOM & Zuckuss reunited
T'onga and the crew are looking for 4-LOM to help them on their mission and track the robot down to an abandoned ship. Zuckuss knows it is a trap but is convinced he can get through to his former friend to get what he needs. The Crimson Dawn has risen in the ranks and is now looking for them also, will they succeed?
I didn't think this series would keep going after Valance was not the main focus of the story, I guess they need to keep it going for the other two crossover events this year. If I was not to be so cynical about it, I do like this crew especially seeing a young Tasu Leech and hopefully he gets to turn up in the Book of Boba Fett or the Mandolorian at one point.
I would recommend this one if you have been following this crew and do not really care that Valance is not so much in the story at the moment. I am sure he is going to make an appearance at a later date during the crossovers.
Comic details:
Writer: Ethan Sacks
Penciler: Paolo Villanelli
Cover Artist: Giuseppe Camuncoli
Publisher: Marvel
Published: January 12, 2022