Comics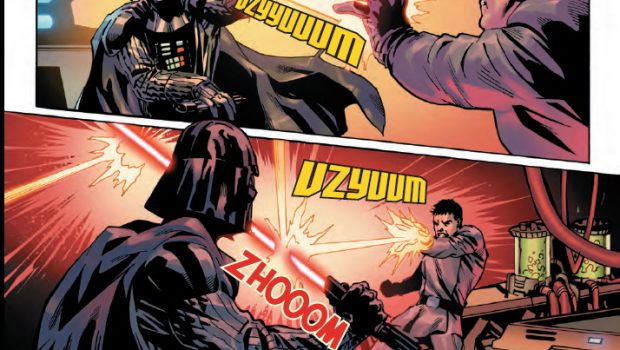 Published on December 5th, 2021 | by Tim Chuma
Star Wars: Bounty Hunters #18 (2020) Review
Summary: Valance reluctantly takes up a new job and the gang lets off some steam by getting in a bar brawl.
Valance wakes up with a start staring at his own heart only to find Darth Vader saying the Empire owns him now. Not only that, they also have access to all his memories so if he doesn't do what they say they will blow up the hidden Rebel base. Valance actually tries it on with Vader knowing he will lose. Vader just walks off after. On a different planet the crew that had tried to rescue Valance including Tasu Leech, Bossk and Zuckuss get into a bar brawl to let off steam.
I enjoyed this story even if the plot about the team that was meant to rescue Valance is still not clear as yet. Valance is pretty much done with his life at this point but does still have people he cares about which Vader is exploiting to get him to do the Empire's bidding.
There is enough action in this episode with Valance fighting Vader and the bar brawl to keep fans of that part of this series happy.
I always enjoy seeing more Tasu Leech as I get to tell the actor who played him in the Force Awakens I saw him or at least the person who maintains their social media. Hopefully we eventually get to meet Razoo Qin-Fee so Iko Uwais gets to be in a comic.
Again with this one it is a bit late in the series to really start now, but it is still near the start of a new plotline so you can always go back and read the War of the Bounty Hunters later whenever the trade paperback comes out.
Comic details:
Writer: Ethan Sacks
Penciler: Ramon Bachs
Cover Artist: Giuseppe Camuncoli
Publisher: Marvel
Published: December 01, 2021