Comics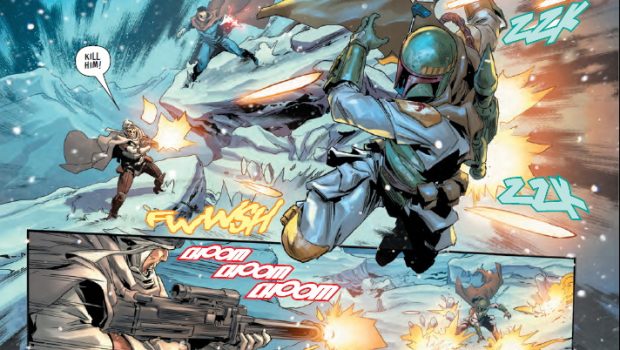 Published on September 27th, 2021 | by Tim Chuma
Star Wars: Bounty Hunters #16 (2020) Review
Summary: This story continues to grind on, it hasn't gone completely into the toilet like the Darth Vader one and completely ruined the point of Return of the Jedi at least.
Valance and Dengar are still on the trail of Boba Fett and end up confronting him on the ice planet the Crimson Dawn are using to hold their auction of Han Solo but things do not go to plan and they each end up having to go to plan B.
Honestly by this point I am glad that the War of the Bounty Hunters crossover event has mostly run its course, it was too much doubling up of the same story and having to read all of the different stories for not much extra was not worth it.
This storyline at least still has something in it unlike the Darth Vader story and does have a definite end point in sight as Valance knows his time is limited.
For a series that started out with such promise and a lot of action it was always going to be difficult to keep up the momentum. It is not terrible at the moment but not really great. Even the one-shots seem to have a more interesting hook in them by this point.
By all means keep reading this if you are into these characters and the story but I wouldn't be starting to read it from this point.
Comic details:
Writer: Ethan Sacks
Penciler: Paolo Villanelli
Cover Artist: Giuseppe Camuncoli
Publisher: Marvel
Published: September 22, 2021