Comics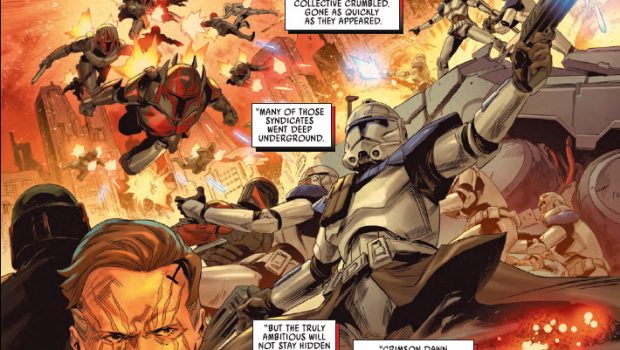 Published on July 11th, 2021 | by Tim Chuma
Star Wars: Bounty Hunters #14 (2020) Review
Summary: This series seems to be getting to near the end but I thought that for other stories also. If you are on-board by all means keep going.
Dengar drags a wounded Valance to get repairs while on another planet T'Onga is surrounded by Crimson Dawn but still has one thing going for her. When Dengar tells the woman running the repair shop what happened, he is berated for coming straight there. Valance thinks she is exaggerating until and explosion tears off the wall of the place and the Crimson Dawn assassin Deathstick appears.
There is a lot of action in this issue and while it would be for the best if you were already following this series, it doesn't really reference much what has happened previously except for right before and that was easy enough to work out.
In this issue there was more about the origins of Crimson Dawn and also some foreshadowing of Valance's eventual fate. He is well aware that he is not going to be around for much longer by this point. There are some more characters introduced in this one, but they are killed off just as quickly.
Worth a look and still one of the stories I will keep following along with the War of the Bounty Hunters storyline.
Comic details:
Writer: Ethan Sacks
Penciler: Paolo Villanelli
Cover Artist: Giuseppe Camuncoli
Publisher: Marvel
Published: July 07, 2021