Comics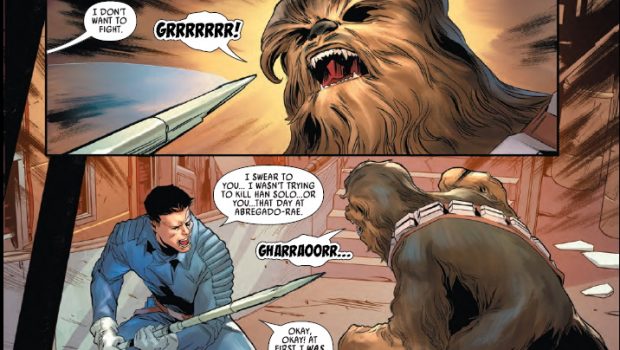 Published on June 14th, 2021 | by Tim Chuma
Star Wars: Bounty Hunters #13 (2020) Review
Summary: A good addition if you are already following the War of the Bounty Hunters story but not compulsory to read.
Valance's hunt for Boba Fett continues as he arrives on the Smuggler's Moon and comes across Chewbacca who is scouting with C3PO. At the same time another group is on a planet that has been attacked when the Crimson Dawn reveals themselves.
Chewbacca is not too happy to see Valance as he has a long memory and they did not part on good terms. Valance said he did not want to kill him and begs to be able to help in the search for Han Solo. "Stay out of the way" is the best C3PO can give him from the Wookie.
While not necessary for the main War of the Bounty Hunters story, if you are already following Valance's story then you will be onboard for it. It is great to see Chewbacca out on his own and there was a mini series of his own back in 2015 and the infamous one where he was killed back in 2001 which is no longer part of the official Disney stories and even the writer disowned it.
There is a lot of action in this one and more detail to the story to build on the main plot so I would recommend checking it out if you are following the whole War of the Bounty Hunters plot.
Comic details:
Writer: Ethan Sacks
Penciler: Paolo Villanelli
Cover Artist: Giuseppe Camuncoli
Publisher: Marvel
Published: June 09, 2021