Comics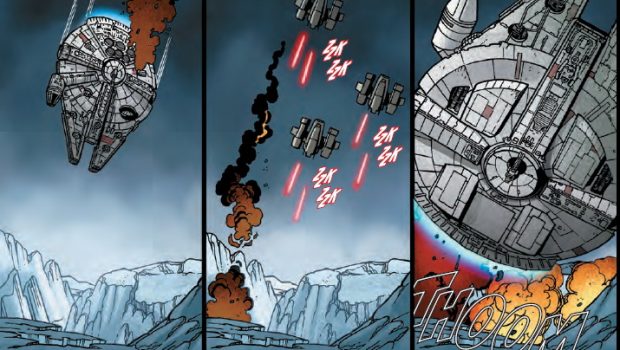 Published on June 20th, 2021 | by Tim Chuma
Star Wars #14 (2020) Review
Summary: Well worth it if you want to know more of what happened between Empire and Jedi. This is the official story now.
After their own inquiries to find out more about the location of Boba Fett, the gang is all back together on the Millennium Falcon to travel to the planet where the crime syndicate known as Crimson Dawn is planning on auctioning off the frozen Han Solo to the highest bidder.
Lando suggested that maybe they should have gone in a less recognizable ship, but Leia wants Han to be in familiar surroundings when they revive him. Everyone turning up in the exact same point in space means hyperspace near misses and people who they have a beef with make getting onto the planet difficult.
There was always a sense in Return of the Jedi that the characters had been trying to rescue Han Solo off screen for a long time before the film started. This series follows more of those adventures and also shows you some of the extra things why they trust Lando in Jedi more by the time it came around.
If you are already following this series you would be on board and it does add to the story already going on the War of the Bounty Hunters plot. You don't really need to read any of the other side stories to get what is going on with this one so it is recommended.
Comic details:
Writer: Charles Soule
Penciler: Ramon Rosanas
Cover Artist: Carlo Pagulayan
Publisher: Marvel
Published: June 16, 2021