Comics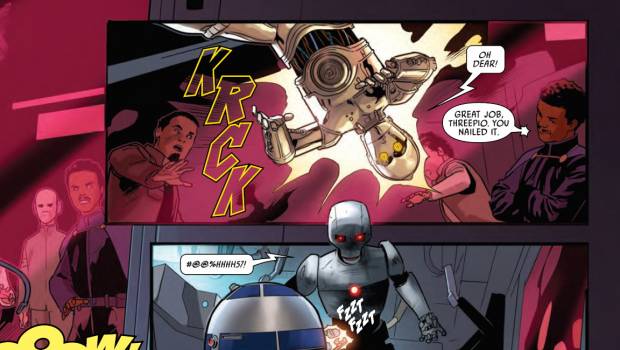 Published on January 7th, 2021 | by Tim Chuma
Star Wars #10 (2020) Review
Summary: Just how long was it between Empire and Jedi? If you are already on board with this then fine.
Still in the region of the events between the events of Empire and Jedi, the Rebels have had their codes broken by Commander Zahara and resorted to stealing an ancient Imperial protocol droid from a museum to use as their new code generator (sounds like Windtalkers). The droid itself has other ideas and Lando has to step in and negotiate the deal.
I had read a couple of stories from this particular series but had stopped for a while so I was not sure where it was up to in this story. Good to see Lobot getting some love as you only see him a couple of times in the movies. Lando might look like he is trying to have a bet each way but it seems he is setting up something that plays out in Return of the Jedi.
The only thing that seems to be a bit on the nose is shoehorning Poe Dameron's parents into the story as there was no mention of them at all before.
If you have already been following this series I would recommend this but if you are just a casual fan maybe wait for a few more issues to see how the story goes.
Comic details:
Writer: Charles Soule
Penciler: Jan Bazaldua
Cover Artist: Carlo Pagulayan
Published: January 06, 2021