Blu-ray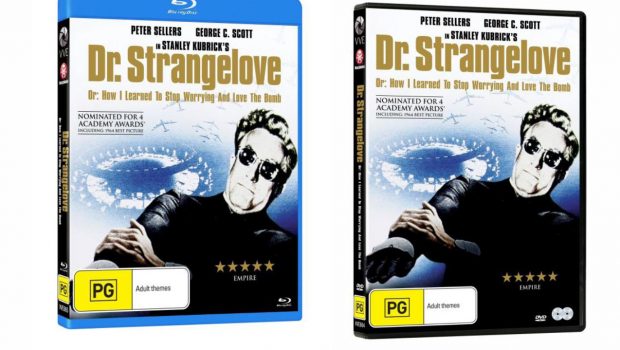 Published on April 13th, 2016 | by admin
Stanley Kubrick's Dr. Strangelove comes to Blu-ray
Wednesday, April 13, 2016 – Via Vision Entertainment is excited to announce the release of Dr. Strangelove: or How I Learned to Stop Worrying and Love the Bomb. The black comedy classic will be out on DVD and Blu-ray May 4.
Based on the book by Peter George with a screenplay by George, Terry Southern and Kubrick, Dr. Strangelove remains the uproarious final word on cold war paranoia. When rogue top brass of Strategic Air Command (Sterling Hayden) orders B-52 bombers to attack the Soviet Union a British military attache (Peter Sellers) attempts to get the code to reverse the order from the general who shoots himself leaving US President (Sellers again) and advisor to the Chiefs of Staff (George C. Scott) with one helluva of diplomatic incident on their hands – nuclear annihilation.
Michael Wilmington in the Chicago Tribune observes "This landmark movie's madcap humor and terrifying suspense remain undiminished by time." Bosley Crowther in the New York Times stated that it was  "beyond question the most shattering sick joke I've ever come across." Roger Ebert calls it "remarkably fresh and undated," and describes it as "a clear-eyed, irreverent, dangerous satire."
Nominated for 4 Academy Awards including Best Picture, Best Director and Best Actor in a Leading Role (Peter Sellers), Dr. Strangelove is universally recognised as a masterpiece and was voted by the American Film Institute's 100 Greatest Films of All Time (#39). The film maintains a lofty IMDB rating of 8.5.
Extras include: The Cold War: picture-in-picture an pop up trivia track, No Fighting in the War Room: or Dr. Strangelove and the nuclear threat, Inside Dr. Strangelove or: how I Learned to Stop Worrying and love the bomb, Best sellers or: Peter Sellers and Dr. Strangelove, The art of Stanley Kubrick from short films to Strangelove, An interview with Robert McNamara, Split screen interviews with Peter Sellers and George C. Scott.