Events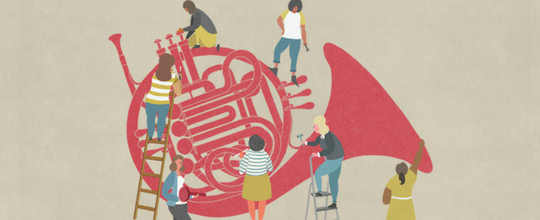 Published on July 13th, 2018 | by Admin
Stand By Your Woman at Arts Centre Melbourne (16 September)
Fourteen of Australia's sharpest instrumentalists, the all-female SPIRE ensemble, will step into the spotlight alongside renowned guest artists in a one-night only performance, Stand By Your Woman, on September 16 at Arts Centre Melbourne's Hamer Hall.
From vocalists to producers, studio techs to management, women power every corner of the Australian music industry. To celebrate the female musicians who keep the scene alive, the SPIRE ensemble, whose members are among the finest musicians performing today, will be joined by guest artists from a staggering array of musical genres, spanning opera to hip-hop.
Lending their vocal talents to this powerhouse squad of women and showing their support for equality in the Aussie music industry is a carefully curated line-up of special guest artists including the iconic Kate Ceberano; one of Australia's most popular rappers Mantra; indie songstress Clare Bowditch; genre-defying urban music star Mojo Juju ; much-loved singer/songwriter Rebecca Barnard; musical comedy legends Tripod; Wiradjuri Soprano Shauntai Batzke; Zimbabwean-born R&B songstress Thando; Nkechi Anele, the lead singer for Saskwatch; and Powderfinger guitarist and singer/songwriter Darren Middleton.
The SPIRE ensemble includes Xani Kolac (Music Director and Violin), Sarah Curro (Violin), Biddy Connor (Viola), Anita Quayle (Cello), Charlie Woods (Trumpet), Ellie Lamb (Trombone), Cheryl Durongpisitkul (Alto Saxophone), Savannah Blount (Tenor Saxophone), Kathleen Halloran (Guitar), Clio Renner (Keys),Claire Cross (Bass),Alex Roper (Drums),Olivia Nathan (Backing Vocals) and Jacinta Caruana (Backing Vocals).
Acclaimed Melbourne music director, singer and violinist Xani Kolac created the Stand By Your Woman concert to support and showcase the multitude of talented musicians in Melbourne.
"There's a myth that the Australian music industry is run by men, when the reality is that women are in every corner of this vast creative enterprise,'' says Xani Kolac.
"Stand By Your Woman is about placing more emphasis on the female instrumentalists thriving in this city who can act as role models for young aspiring instrumentalists."
Arts Centre Melbourne presents
Stand By Your Woman
16 September 2018
Arts Centre Melbourne, Hamer Hall
Book:  artscentremelbourne.com.au or 1300 182 183