Films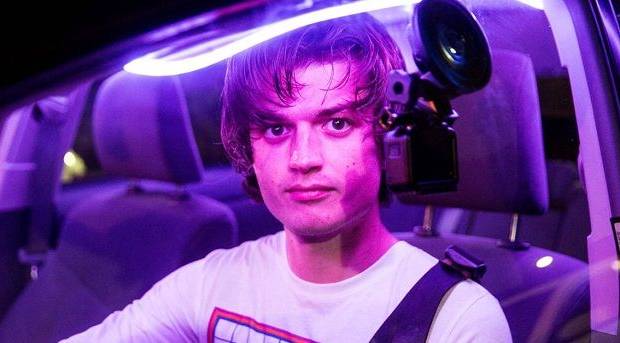 Published on October 12th, 2020 | by Scott De Lacy
Spree (2020) – film review
Reviewed by Scott De Lacy on the 8th of October 2020
Dreamcrew, Forest Hill Entertainment, SuperBloom Films presents a film by Eugene Kotlyarenko
Produced by Drake, Alex Huges, Adel Future Nur,Matthew Budman, Sumaiya Kaveh, Eugene Koltyarenko, John H. Lang
Written by  Eugene Kotlyarenko, Gene McHuge
Starring  Joe Keery, Sasheer Zamata, David Arquette, Kyle Mooney, Joshua Ovalle, Lala Kent, John DeLuca
Music by Jason Alexander, Jonathan Christiansen
Cinematography Jeff Leeds Cohn
Edited by Bejamin Moses Smith
Rating: Unrated
Running Time: 1h 33min
Release Date: 14th of August 2020
This film is all about a young man who craves attention; he is always on his phone, streaming to the web and striving to attract an internet following. Sound like somebody you know? Well it is meant to.
Kurt Kunkle is the analog for the typical millennial who is self-obsessed, vapid and single minded on feeding his own hungry ego.
Pushed to the limit of his own hubris and ego, Kurt uses his job as a Spree rideshare driver whilst hosting his own show #TheLesson from every possible angle in his car. His latest edition he promises to be his best show ever, as he carries out his plan to feed his insatiable need for followers by giving up all sense of decency, humanity and empathy for others, whilst wreaking murderous havoc all in a single night.
The audience follows Kurt in a linear fashion, starting out with his preparation of his vehicle and 'instruction videos', through to picking up his rides victims.
Despite Kurt's lack of success previously generating followers, he presents well and has a pretty-boy-smile the entire time, demonstrating what would otherwise seemingly be a normal persona and disarmed demeanour.
Cinematography and style
The majority of this film is from the perspective of Kurt's viewers, and whilst they are peering the scene through the dash and side mounted cameras in his car, there is onscreen interactive chat that is displayed throughout.
There is a consistent level of realism by direct observation as style used throughout the majority of this film; it is a very unique style for a theatrical film, which is broken up with traditional follow cameras and fixed position camera work. Ultimately it really does feel like a fresh new method of cinematography and style that really compliments this kind of story telling.
However to be fair, this is not unfamiliar to anyone who has seen James Cordens carpol karaoke or perhaps almost any popular YouTube video series where the presenter is in their car.
Music
The music is a compliment to the story-telling, Kurt is a bit of an aspirating DJ which perhaps came from his father. Although truth be told, it clearly is not where his talent lies but more-likely to be a product of another failed attempt to score subscribers.
The music consists of random pleasing beats and rhythms that serve to be a footnote or annoyance device in the story telling and presented only as such through the car stereo, but perfectly made for that purpose and a job well done.
Deeper analysis
This film is difficult to pin down, and the first impression is quite literally "what the actual F!"
As mentioned Kurt is the analog for and part of the commentary this film is providing on what society is rapidly becoming; that is a narcissistic, vapid, attention seeking husk of what our forbearers once were.
But as a story, this film offers very little to the audience. It is clear from the get go, having seen the trailer of course, that Kurt is a sick individual, and although it is easy to feel sorry and emphasise with him at first, it is very easy to drop him almost immediately and lose all affinity and buy in for this film.
There is no logical arc to this film that gives the viewer the traditional 'story', such as showing Kurt's trauma or offering an explanation of why he is the way he is, nor is there any redemption angle where he could be saved. No struggle, no reason, just carnage in its worst form – vanity.
However this is the key point which would be lost on most people, Kurt is quite normal, he is the true 1 in 50 statistic with the 1 in 25 traits as well (depending on the source). In real life, there is no need for a reason for these people, there is no arc, yes there is a story and sometimes trigger events, which was shown here by the lack of followers and attention, but this was not shown in a substantive way.
Spree is an example of storytelling that is too successfully realistic, which has caused it to be a victim of its own success in that right, ultimately it has ruined its chance for success at being a great film, owing to the lack of the fundamental need to entertain the audience rather than only drawing upon the shock value.
Final thoughts
This film is something that will be spoken about, it will be referenced as 'that film' that one must see simply by virtue of its content, so by that measure you ought to see it so that you won't be singled out in your societal group. But this film offers a predictable story, a predictable outcome with an entirely cringe-worthy barrage of "what the F!" that you will question why they bothered making it.
The intent of this film seems obvious, the performance of the actors was fairly good especially by Joe Keery (Kurt), but the feeling here is that they aimed for 'Black Mirror', but wound up closer to two girls one cup.
This film ultimately will hold the viewer to account, as it is a test of character to reject it or more concerning if one derives pleasure from this film, it is akin to watching suicide and murder videos from the dark web. This film is a statement on society with very little redeeming features.
Summary: They aimed for 'Black Mirror', but wound up closer to two girls one cup. Predictable, frustrating and likely only appealing to those with a predisposition to the macabre, and only for the wrong reasons.