Hardware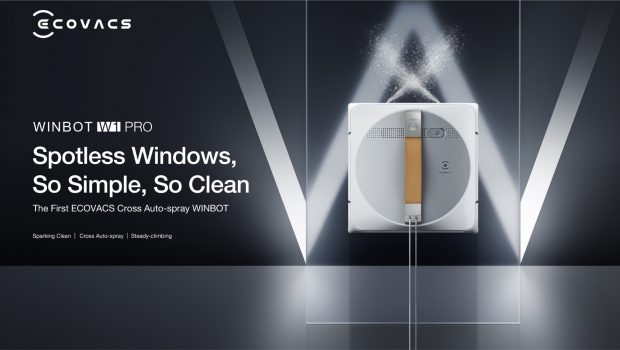 Published on March 21st, 2023 | by Adrian Gunning
Spotless Windows, Simple And Clean – ECOVACS ROBOTICS Launches WINBOT W1 PRO Window Cleaning Robot in Australia
ECOVACS ROBOTICS, the world's leading service robotics brand and Australian market leader in the robotic vacuum category, has today announced the expansion of its home cleaning range with the launch of the WINBOT W1 PRO window cleaning robot. Featuring a range of proprietary cleaning and suction technology, the WINBOT W1 PRO delivers a spotless and simple clean that epitomises ECOVACS' commitment to deliver innovative home robotics to Australians that bring convenience and true time-saving benefits.
Designed so that Australians can have more time to "sit back, relax, and enjoy the view", the WINBOT W1 PRO features dual direction cross auto-spray technology, a powerful steady-climbing system, upgraded WIN-SLAM 3.0 path planning, anti-flare edge detection technology and a strong suction power of 2800Pa. Its compatibility with the user-friendly ECOVACS App and ability to vocalise real time updates further enables a hands-free cleaning experience, freeing up time to focus on other activities other than home cleaning, with the WINBOT W1 PRO also delivering an incredible clean to normally hard to reach areas.
While the launch of the WINBOT W1 PRO will expand ECOVACS' Australian range beyond robotic vacuum cleaners, it has been a global leader in window cleaning robots for more than a decade, with its first window cleaning robots launching in 2011. The WINBOT W1 PRO is the culmination of this decade of R&D and expertise in this specific category, and comes as ECOVACS ROBOTICS is celebrating its 25th Anniversary in 2023.
"As ECOVACS ROBOTICS celebrates its 25th anniversary in 2023, the desire from Australians to embrace time-saving home cleaning robotics has never been greater. We are delighted to expand our product portfolio with the WINBOT W1 PRO and believe its advanced window cleaning technology means that Australians can instead 'sit back, relax and enjoy the view'  whilst we continue to deliver the future of home cleaning." said Karen Powell, Regional Director of ECOVACS ROBOTICS in Australia and New Zealand.
Dual direction cross auto-spray delivers an efficient wide-angle clean
The WINBOT W1 PRO features a unique cross spraying technology that allows stains to be both dissolved and then wiped off no matter the size of the window. Its 60mL reservoir and wide range spray angle reduces the frequency of cloth changes needed and allows all cleaning areas to be kept wet, ensuring an efficient high-quality window cleaning experience is achieved.
Powerful steady climbing system and strong suction power combine to deliver a stable and firm cleaning experience
Built with high-quality materials and strong driving treads, the WINBOT W1 PRO has precise gravity settings that enables for a smooth and stable window cleaning experience. Combined with its strong suction power of 2800Pa, not only does this technology further strengthen the grip of the WINBOT W1 PRO on windows, it also delivers a firmer wipe.
Advanced WIN-SLAM 3.0 technology for a smart and systematic cleaning path
With the intelligent WIN-SLAM 3.0 technology, the WINBOT W1 PRO creates a thorough and comprehensive clean. Automatically cleaning in a back-and forth motion, it comes in three adaptive modes including fast clean, deep clean and spot clean.
Anti-flare edge detection allows for cleaning route adjustments
Featuring high-precision sensors, the WINBOT W1 pro can smartly detect edges such as frameless windows. This technology means that it is able to adjust its cleaning route in just 0.02 seconds, making it suitable for all types of glass cleaning.
Fitted with a microfiber cleaning pad for great water absorption
The WINBOT W1 PRO comes with a large microfiber material that allows for great water absorption and cleaning without any water streaks.
User-friendly app combined with real time updates enables for a hands-free clean
ECOVACS' user-friendly app means that the WINBOT W1 PRO can be easily, conveniently, and remotely controlled. Combined with its ability to vocalise real time updates, time can now be spent on other tasks and a completely hands-free window cleaning experience can be achieved.
Pricing and Availability
The WINBOT W1 PRO is available now with a recommended retail price of $799. It is available instore at select Bing Lee stores, and online from JB Hi-Fi, Bing Lee, Robot Specialist, Amazon, eBay or ECOVACS.com/au