News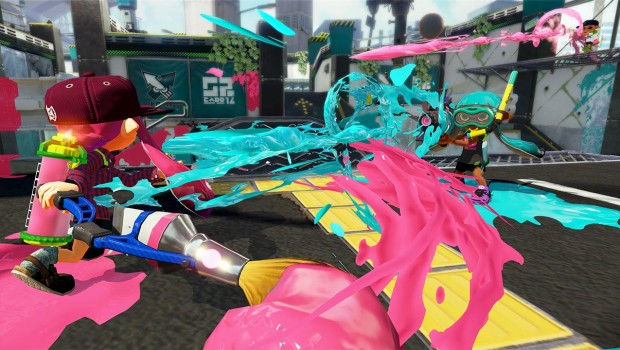 Published on May 8th, 2015 | by admin
Splatoon Needs You for Important Squid Research – Free Game Demo Available on Wii U at Specific Times This Weekend Only!
8th May 2015 – Are you a budding Inkling wishing to whet your tentacles before the launch of Splatoon on 30th May? Announced as part of a squid-dedicated Nintendo Direct, a free Splatoon Global Testfire demo is now available to download from Nintendo eShop for Wii U, enabling any Wii U user with a broadband internet connection to play 4-on-4 online Turf War battles this weekend only at specific times!
Splatoon is a wild new game from Nintendo that combines the creative and family-friendly fun Nintendo is known for with ink-spraying, turf-claiming action. Just like Mario Kart changed the way family and friends play racing games together, Splatoon welcomes players of all ages and skill levels to the world of the action shooter.
In the game, players take on the role of the Inklings, customisable characters that can transform into squids at the touch of a button. After splatting opponents and covering a level with colourful ink, players can transform into squids and swim quickly through their own ink or use it to take cover and hide from enemies.
Among a splash of new updates delivered by the team at the so-called Squid Research Lab during today's Nintendo Direct broadcast, Splatoon users can look out for a raft of free post-launch content coming their way after 30th May, with the release of new stages, weapons, gear and modes that will continuously evolve the gameplay experience. To view the Nintendo Direct in its entirety, visit http://www.nintendo.com.au/nintendodirect – Today's announcements include:
Global Testfire demo: Participants can download the free demo from Nintendo eShop for Wii U from today. This demo will then go live for 1-hour periods at the following times: 13:00 AEST and 21:00 AEST on Saturday 9th May, and 05:00 AEST on Sunday 10th May. When live, users will get the chance to jump online and play in 4-on-4 Turf War battles against other players from across the world, including representatives of Nintendo's Squid Research Lab! Players who download the demo can also claim a 10% discount off the price of Splatoon on Nintendo eShop, with the offer starting 30th May and lasting until 4th June.
4-on-4 online action: When the game launches on 30th May, players will need to think strategically when participating in online matches. Two stages are refreshed every four hours with an official announcement in-game to sound the changes, meaning players will have to carefully consider weapons and tactics for the stages that lie in wait. Different weapons work better in different stages, so players will discover depth in the weaponry as they focus their strategies on different 2-stage pairings. After each 4-on-4 match, players are randomly reshuffled to form new teams, so sometimes players will be working with their friends and other times they'll be looking to take them down!
Free post-launch content: Five stages available from launch – Urchin Underpass, Saltspray Rig, Walleye Warehouse, Blackbelly Skatepark and Arowana Mall – will get players off to a flying start, but new stages are set to be introduced every few weeks that require even more skill to master. As additional free post-launch content, players can also look forward to experiencing new weapons, as well as a Ranked Battle mode ominously named Tower Control. A major game update in August will add further friend matchmaking functionality to enable 4 players to form a team and battle against other teams, as well as functionality to create private 8-player matches with just friends. Also coming in August is a mysterious third Ranked Battle mode, Rainmaker, a whole new line of items to spruce up a player's battle appearance, plus more!
Splatfests: Themed events called Splatfest will ask players to ponder the answer to simple questions such as… Do you prefer dogs or cats? Players must then choose a side and represent their side during Splatfest! These events will have their own ranking system, and based on a player's overall rank, a valuable item called a "Super Sea Snail" may even be received once the event has ended, helping to freshen up your gear. Prepare for the first Splatfest on 28th June, with the theme being…Which music do you prefer: rock or pop? For this first Splatfest, Super Sea Snails all round to the winning side!
For more information on Splatoon, please visit the game's website.