Switch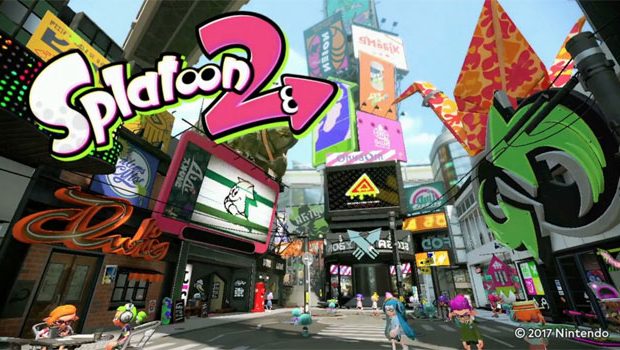 Published on July 24th, 2017 | by Tony Smith
Splatoon 2 Review
Summary: Splatoon 2 is a very worthy sequel of colours, fun and awesome multiplayer action!
When Splatoon 2 was announced, it definitely had big shoes to fill that not only gave the world of gaming a very unique and entertaining title but it thought outside the square in terms of mechanics. Sure there were a few hiccups here and there but overall, it was a very original game on the Wii U. So here we are again with Splatoon 2 and apart from Zelda Breath of the Wild on the Nintendo Switch, it's probably the next big blockbuster game on this console. Furthermore, the developers really maximise the features of this portable gaming machine as we once again colour the world with ink and stop the Salmonids.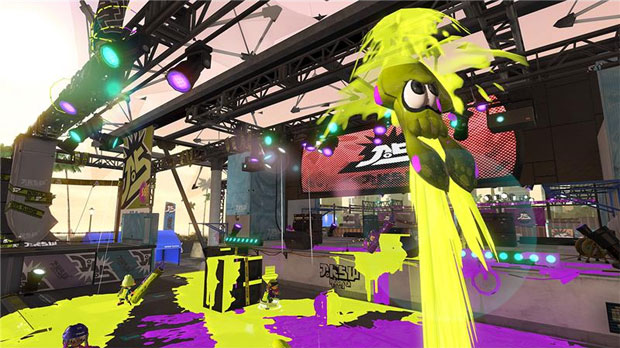 Like the original title, Splatoon 2 offers both a single and multiplayer component, however the game is absolutely more enjoyable when played with other people. This is not to say that the single-player is mediocre but when you play against other gamers, you use different skills and strategies which can be quite chaotic at times but it really compliments what Splatoon 2 is about. For those who have never played the original before, the single-player aspect is a great place to learn the mechanics as you take on the nefarious Octarians with some very clever level design, fun weapons, interesting items and other bonuses that can be found along the way. Control wise you can play the game via the Joy-Con controllers or if you want more control, the Nintendo Switch Pro Controller is the answer.
Before jumping into the game, the title does offer a short tutorial which teaches you the basics of Splatoon 2, including customising your character from their gender to appearance. Each of the levels that you engage in have their own challenges, including a variety of weapons to help you defeat the enemy and solve the in-game puzzles. So while you shoot your wildly imaginative ink colours in the gaming world, turn into a squid and other ingenious activities, it's quite a mad and fun event as you embark on the various missions which will take gamers around 8 to 10 hours to finish. Sure you can knock it over faster but why miss out on all the fun? Oh… the game has amiibo support as well plus some cool new ones to support the game!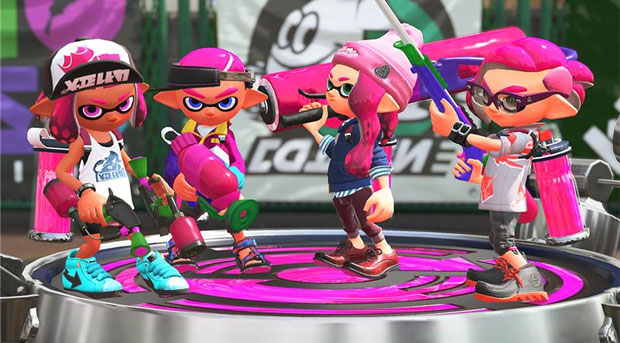 There's a ton of weapons in the game like the Roller and the Charger which allow you to take on the enemies and environment in some very unique ways. There's also some clever enemies to find along the way plus some challenging (at times) boss battles which really takes the mechanics to a whole new level. Needless to say, the single-player mode is an exciting way to experience Splatoon 2 and allows you explore the world at your own pace. Multiplayer on the other hand offers random matches, the ability to play with friends and even local wireless. I must also commend Nintendo on their online platform which is pretty much flawless on the Nintendo Switch.
Compared to the original game, Nintendo have tweaked the gameplay for online play and have made the journey an overall fairer one. Weapons are less powerful and the level design provides more strategy. Even though the game is quite fast paced, there's plenty of cover to be found and even areas where you can almost 'sniper' your opposing team members. Furthermore, the level design is more detailed and some areas are quite big, especially as you attempt to gain as much area as possible with your team's coloured ink. During my initial testing of the online aspect, I was only booted once from the server which put me back into the main hub for single-player.
The online mode offers players modes such as a Regular Battle, Ranked Battle, League Battle and Salmon Run. There's also plenty of different levels to engage in like the Reef or the Starfish Mainstage which helps keep everything fresh and fun. All in all, I had so much fun playing online and the matchmaking system works very well. I hardly had to wait at all in the lobby before we gathered a team together. One of my favourite modes is Turf War which is a 4 vs 4 game as you attempt to colour each others turf. The new hoard mode called Salmon Run is another place where you'll find some love with an interesting twist.
So as the Salmonids start coming in their droves, your job is to take them out, however to make things challenging, there are more powerful Salmonids which not only require you to eliminate them but also take their eggs in order for your to pass them onto your boss, Mr Grizz. Then it all hits the Splatoon fan as the waves get bigger and bigger, including changes to the environment. More importantly, these mode gives you access to bonuses like gear and money. The only downside to multiplayer is that it may lose its shine if Nintendo don't keep supporting it.
Graphics/Audio
Graphically, Splatoon 2 is a very good looking game on the Nintendo Switch in both TV (1080p) and tablet (720p) modes. However the highlight of this game is undeniably the level design and special effects of all the inks and there almost otherworldly myriad of colours that truly jump out of the screen. The frame rate is exceptional as are the special effects and lighting which makes this one of the best looking games on this console. Complementing the excellent graphics is the awesome Japanese Pop inspired soundtrack and crazy sound effects which helps immerse you into the world of Splatoon.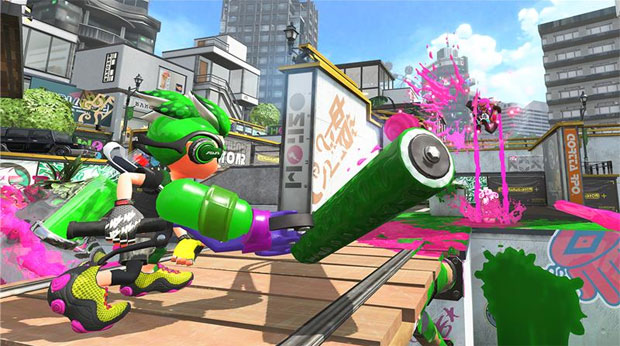 Final Thoughts?
Splatoon 2 may not reach the same heights of the previous game in terms of originality, however it's still a worthy sequel that does enhance the overall experience of this franchise. The single-player is a treat, however where Splatoon 2 shines is via its multiplayer mode that is pure chaos from the get go. With both ranked and unranked matches, Splatoon 2's multiplayer is thoroughly entertaining and gives players from around the world the chance to engage in some competitive fun as you level up your Avatar while shooting your coloured ink in a variety of ways which is pure ingenious fun.
Recommended!
Key Features
New weapons – New dual-wielding Splat Dualies join the action, complete with a new Dodge Roll move. Mainstays like the Splat Roller and Splat Charger have also been remixed to include new gameplay mechanics and brand-new special weapons.
Local and Online Multiplayer – In a first for the series, compete in local multiplayer Turf War battles, whether in TV mode or on-the-go in handheld or tabletop modes. Online battles also make a return.
New ways to play – Play using the Joy-Con controllers or the Nintendo Switch Pro Controller, both of which allow for gyro controls for better aiming and control.
New Trends – Two years have passed since the release of Splatoon in real life, and two years have also passed in the game world. Some familiar characters return under different circumstances, and new characters are introduced as well.
Fresh Updates – Similar to Splatoon for Wii U, updates will roll out post-launch, adding new content.
Smart Device Support – An upcoming smart-phone application for the Nintendo Switch system will enhance matchmaking and allow for voice chat options.
Turf War – Iconic 4 vs. 4 Turf War battles return. The goal is to splat ink on as much territory as possible, while strategically submerging yourself in your team's colors and blasting your enemies.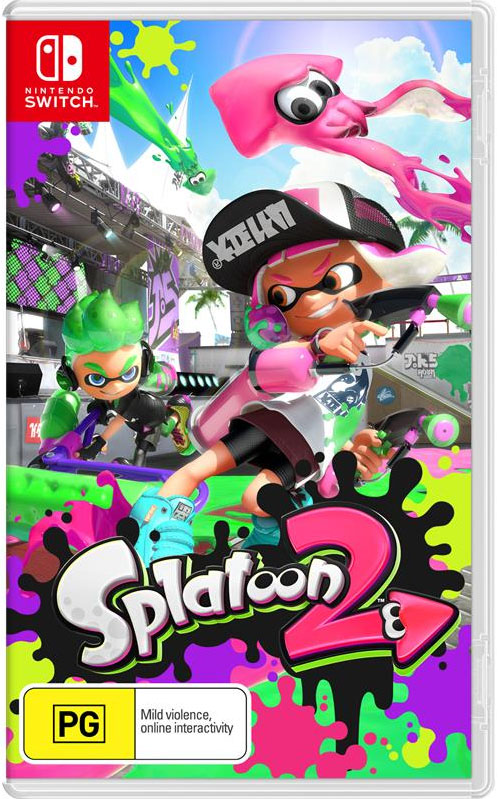 Game Details
Primary Format – Games – Nintendo Switch
Game Genre – Shooter
Rating – PG
Consumer Advice – Mild violence, online interactivity
Game Developer – Nintendo
Game Publisher – Nintendo