Blu-ray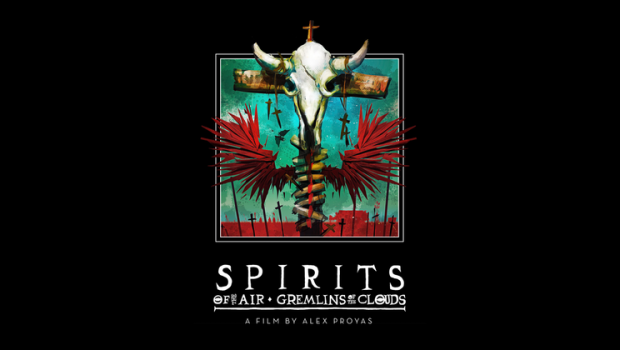 Published on November 5th, 2018 | by Pat Condliffe
Spirits of the Air, Gremlins of the Clouds Blu-ray Review
Summary: Alex Proyas' quirky debut is a heartwarming film that receives a much-deserved re-release.
Alex Proyas shot to fame as an Antipodean auteur with the back to back cult successes of Dark City and The Crow. Before that he had renown as being the goto director for Aussie music videos, shooting clips for Crowded House and Fleetwood Mac. Tucked in between the two periods of his filmography is the mysteriously titled Spirits of the Air, Gremlins of the Clouds. Often this quirky and metaphysical western could only be found as a rerun at arthouse festivals or in low-quality VHS prints. Now, Umbrella has released a high quality remaster choc-a-bloc full of special features as part of their Beyond Genres series. The new release does justice to Proyas' sumptuous use of colour and landscape.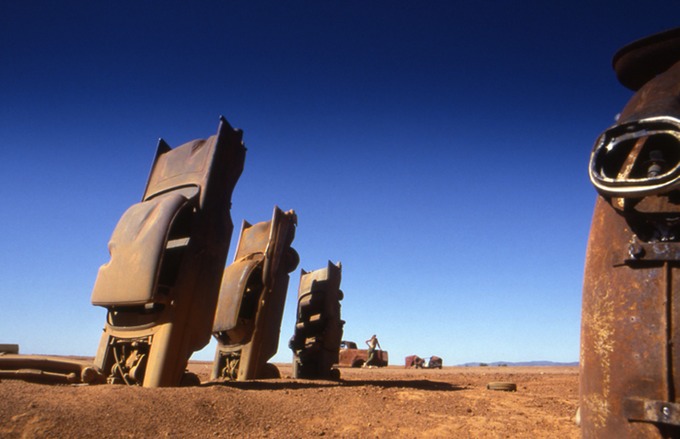 Felix Crabtree (Michael Lake) and his sister Betty (Melissa Davis) live alone in the desert. He is obsessed with flight and she is deeply religious, terrified of the arrival of demons. They live in a post-apocalyptic future: civilisation is gone, religious cults roam the wastes, and resources are finite. Felix and Betty are happy isolated in their house. Felix tinkers and designs flying machines based on his father's old books, Betty keeps them safe with her music and talismans. That is until the mysterious Smith (Norman Boyd) one day stumbles onto their land and collapses into their lives. With his arrival, everything changes and the simmering tensions between brother and sister begin to bubble over.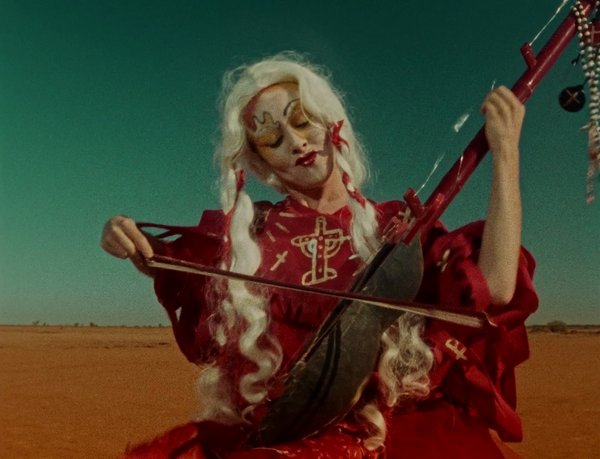 Lake, Davis, and Boyd make a great little ensemble in this quirky film. They have a real dynamic, and even though they had only had limited experience up to this point, pulled off some memorable performances. Davis had been in a pair of low-budget Aussie films, Boyd was giving his only film performance, and Lake was branching out from background characters and theatre at the suggestion of a mate. This greeness, combined with budget limitations that meant they had so little film stock they needed to nail their scenes in one shot, produces a tense and a little raw atmosphere perfectly in harmony with the film's setting.
Shot on location in Broken Hill, Australia's apocalyptic capital and home to the Mad Max series, Wake in Fright, and Razorback, Spirits of the Air, Gremlins of the Clouds is a beautiful film to watch. Proyas has an eye for quirky set design and striking colour contrasts and David Knaus captures this perfectly with the camera. There is a strong surrealist feel to this film, clearly inspired by the Westerns of Jodorowsky – The Holy Mountain and El Topo. Like those films, Spirits takes the aesthetics of the Western and many of its tropes and crafts something very different that in the end is uplifting and touching, rather than violent and in your face. One of the most effective things about this little gem is how Proyas keeps the tension developing, in what is essentially a domestic ensemble drama, as if it were on the precipice of descending into apocalyptic violence and anarchy.
Peter Miller's score is haunting and shifts restlessly like the desert sands between nerve-jangling discordance and ethereal mellifluousness. The sound design captures the isolation and winds of the desert outside and contrasts them to the occasionally jarring relationship between the siblings and their mysterious guest. A simple meal of beans and bread becomes a battle of wills between the three as Miller weaponises the sounds of dinner.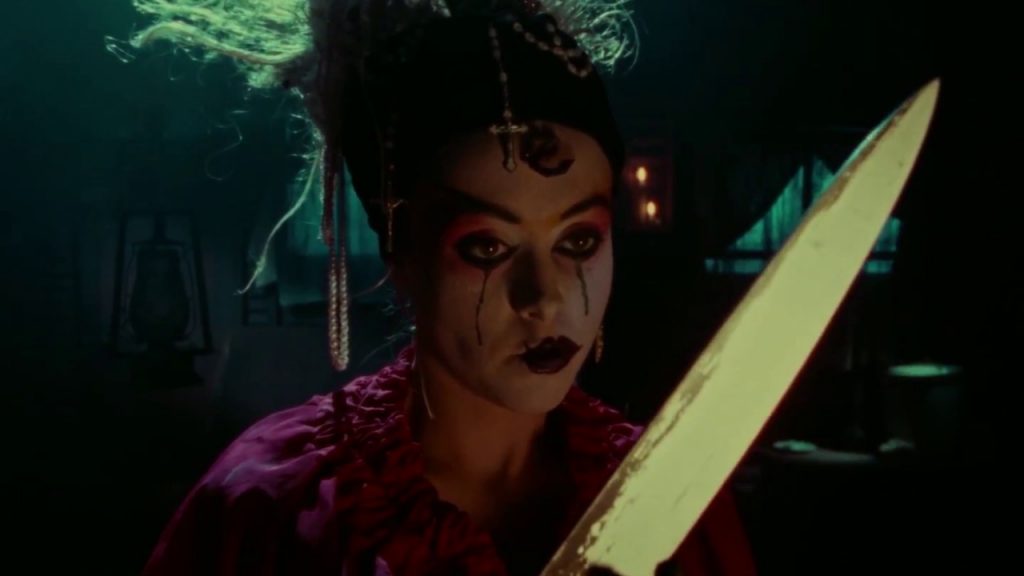 The Umbrella Blu-ray release is once again excellent. the packaging is quite slick and beautiful. The image quality is great given the quality of the original 16mm film stock. The sound is rich and clear. There are a few interviews and a pair of documentaries. The docos are great and insightful, but the interviews do drag a little and could have been edited for brevity and concision.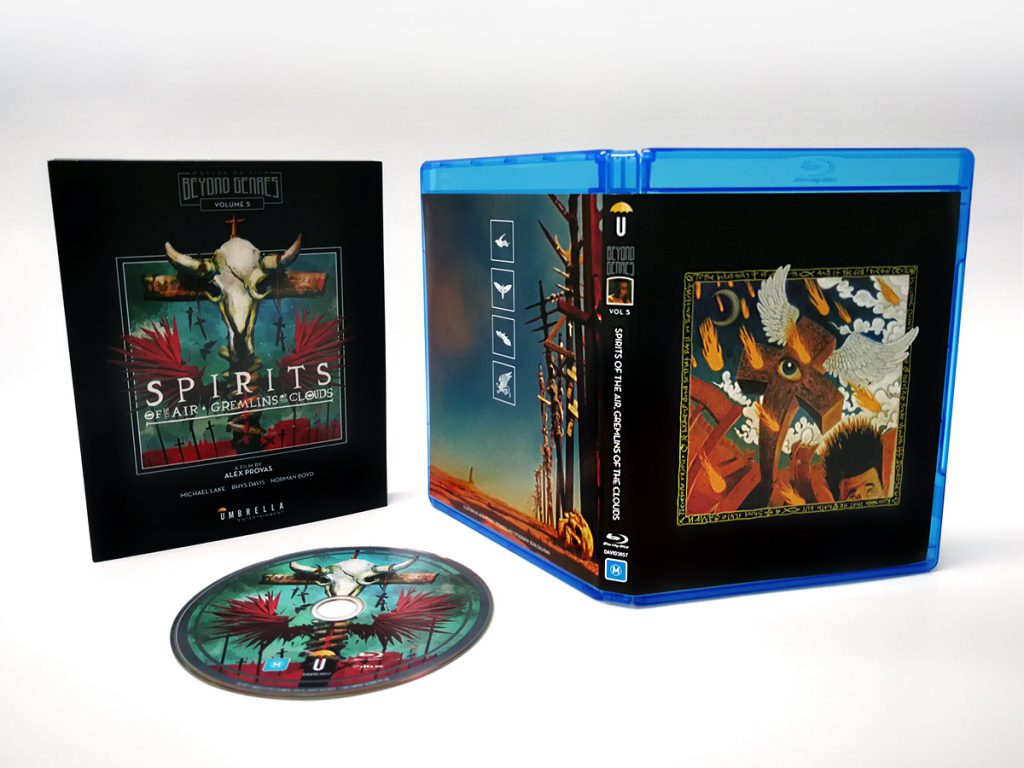 All in all, this is a little gem of a film. It is quirky and quite different to much of Proyas' other, action-packed, film. While this has many of the same themes of redemption, transcendence and destiny that have featured prominently in his other films, here they are stripped to their bare essentials.