Events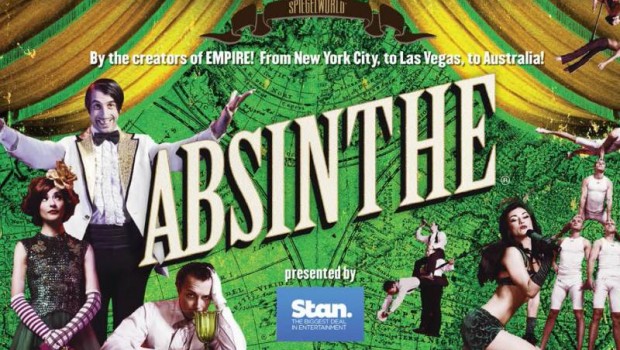 Published on March 27th, 2015 | by Andrew Bistak
Spiegelword Absinthe Review (Melbourne 2015) … one word WOW!
Spiegelword Absinthe
Event: Comedy Circus / Burlesque Cabaret
Venue: Crown Casino Spiegeltent
URL: www.absintheaustralia.com
Reviewer: Andrew Bistak
Spiegelword returns to Australia with their smash-hit Las Vegas show ABSINTHE and once again bring their collection of demigod-like performers from around the world in a truly spectacular show that will leave you amazed, amused and astonished! At its core, ABSINTHE is like walking into a strange cabaret-inspired dream that is like some weird and sexualised ethereal experience as you watch these performers defy logic and bring a wealth of humour into this thoroughly entertaining production.
ABSINTHE also brings a wealth of music from a variety of different eras that go hand in hand with the performance with one cast member, Karla Tonkich (Australia) playing the seductive Green Fairy whose first song involves a very provocative burlesque striptease which definitely kick starts the show. The show is presented in the spiegeltent at Crown Casino which is a 700-seater antique tent which has this real 18th century feel to it, especially with its burlesque inspired furnishings and mirrors. Of course the word "Spiegel" does mean mirror in German which really does put this crazy fun house mirror in front of the audience.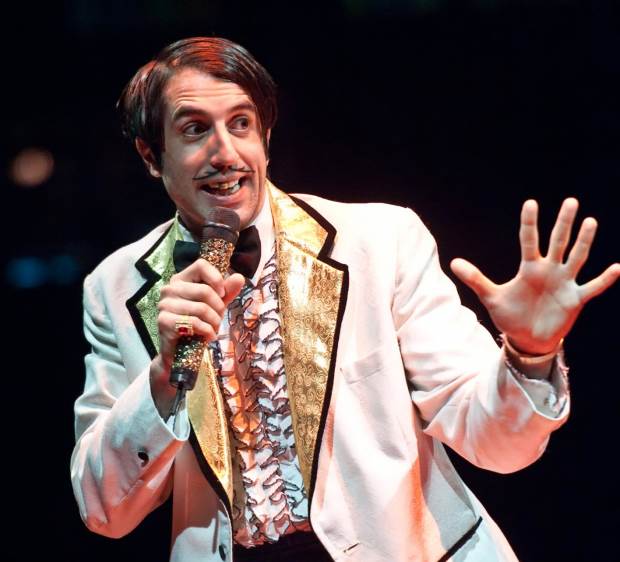 With that said, the cast of ABSINTHE play certain themed characters in the production which really helps the audience get immersed into this wondrous performance and the show is hosted by The Gazillionaire, the "producer" and "owner" of ABINSTHE who really made the audience laugh, especially when he targeted unsuspecting audience members. Joining The Gazillionaire is his co-host, Penny Pibbets, a quirky oversexed woman with sock puppets who was as equally as funny and dare I say, had me in tears. Another amusing act is the Duo Adagio (aka Ivan and Ivana Chekhov-Jones) who perform this extremely funny dance routine as they attempt and the key word here is attempt, to do dance moves that you would expect to see professional dancers perform and without spoiling this act, it ends in a hilarious crescendo. Just watching them perform is a true delight!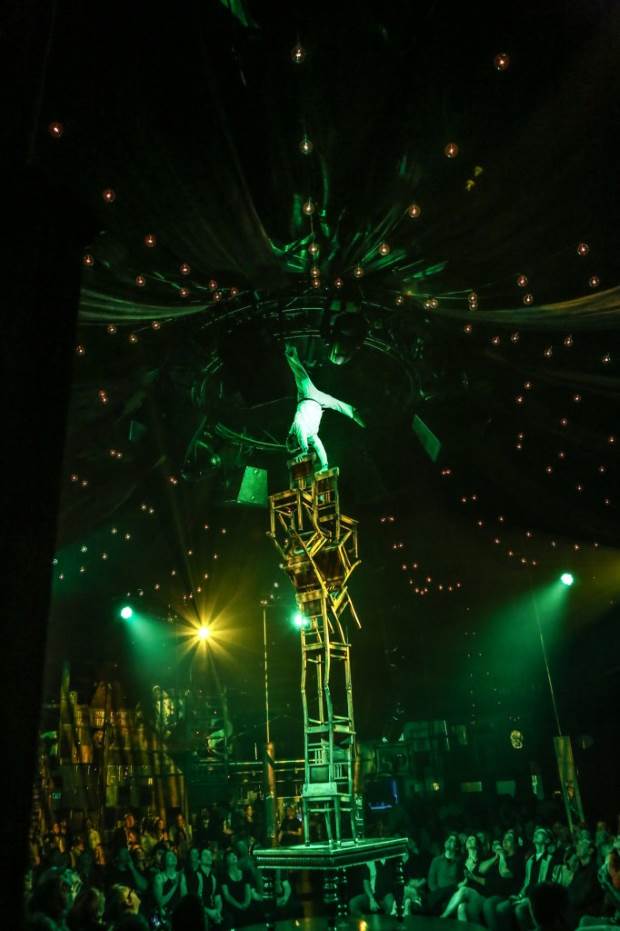 The first acrobatic act of ABSINTHE is the Chair Stacker (Oleksandr "Sacha" Volohdim) that somehow on the small stage in the spiegeltent manages to stack eight chairs on top of a table as he climbs to the highest point of the tent. The balance and concentration of Sacha is amazing as he carefully climbs to the peak of this chair tower which had everyone mesmerised. The next act called the Banquine (Lost Souls) features four gymnasts from the Ukraine (Andrii Kalashynk, Bogdan Kalashynk, Dmytro Bilogubets and Oleksandr Orlov) that together make a human pyramid as the youngest performer Bogden effortlessly climbs their bodies who even performs a double catapult. The "in" joke in this performance is that when they finish certain parts of their act, Andrii, Dmytro and Oleksandr each have a drink of alcohol with poor Bogden missing out.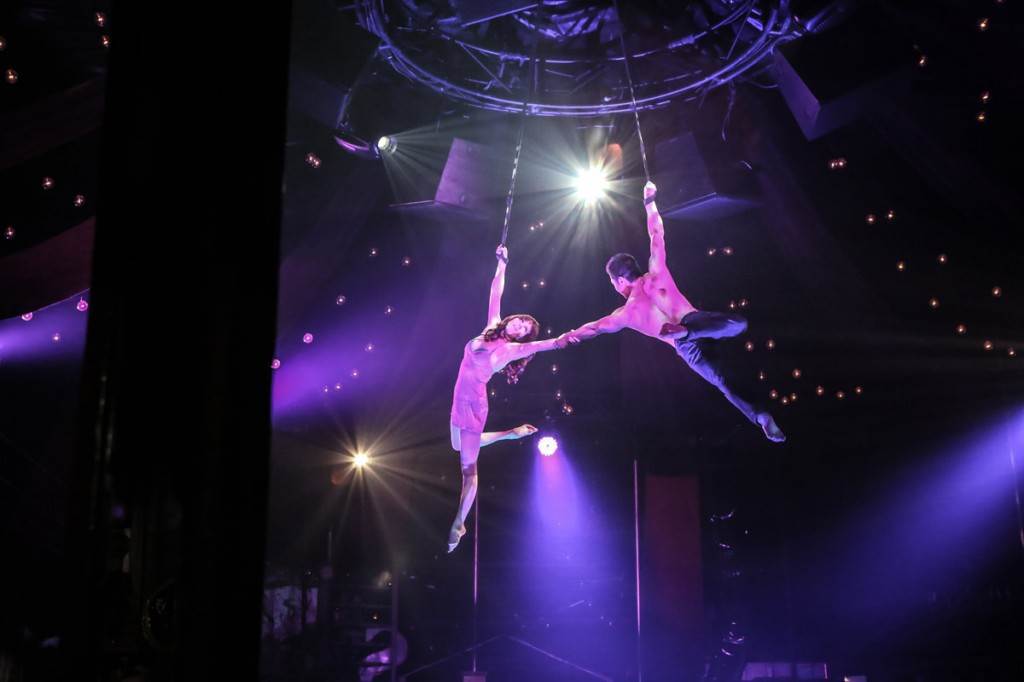 Following this performance is the Duo Straps that features Jacob Oberman & Maika Isogawa from the United States who perform this beautiful, erotic and quite romantic aerial ballet as they use the straps. Seeing these two performers is an amazing sight as they lift each other high above the stage and once again defy physics which is a common theme to this production. To lighten up the performance, Angie Sylvia from Sweden does this sexy burlesque inspired flirt with the audience that includes a seductive dance with a giant balloon. Angie then manages to get inside this balloon as she cheekily dances inside the bubble before it pops to the shock of the entire audience.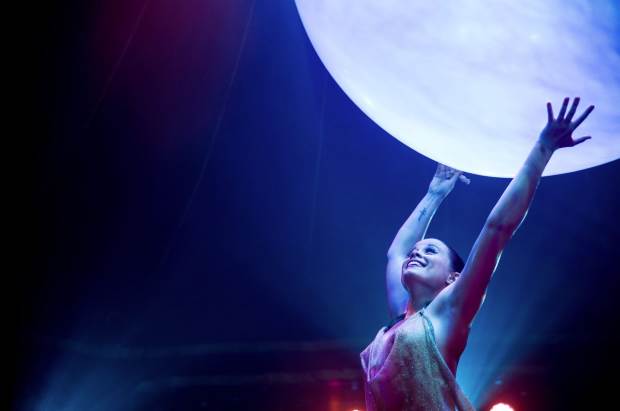 All through the performances The Gazillionaire and his side kick Penny, taunt, joke and entertain the audience and on opening night, they targeted a lady from the audience which required another two members from the audience, the "young dude" and the "old dude" to perform a poll/striptease dance on her in order to win some alcohol. The entire spiegeltent were in hysterics, especially that one of the "victims" was TV personality Glenn Ridge which made it even more amusing. For more like godlike performances, Aliaksandr Yurkaveats and Andrew Sizoneko from Belarus awed the audience as they spun, twirled and jumped on the horizontal bars with the spectator's just metres away from them.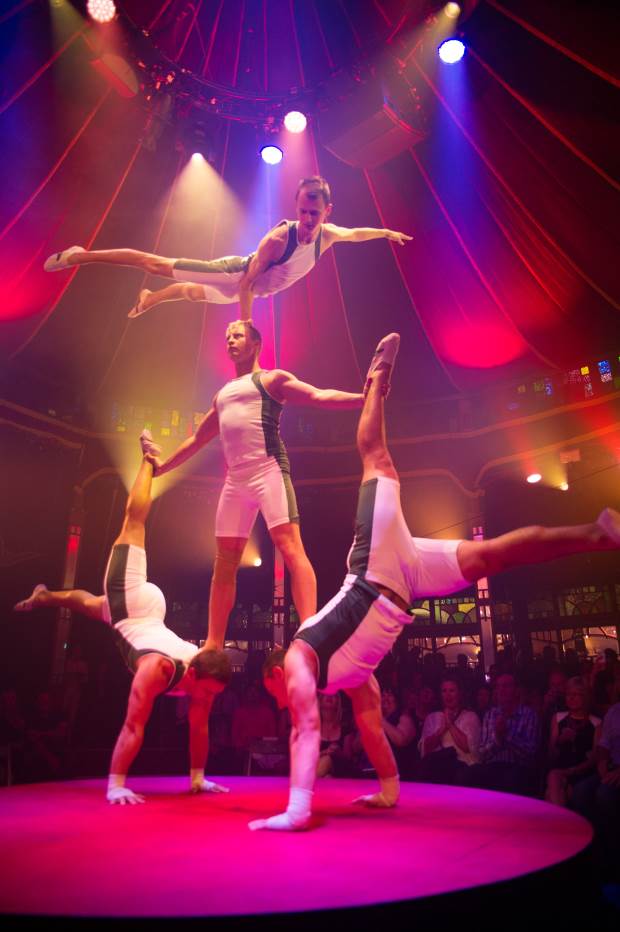 Laura von Bongard and Luka Clayborn from Germany perform on the Aerial Hoop (Cavea Aurea) who create this sensual dance routine high above the stage which is quite passionate and powerful. It is quite amazing that they don't manage to knock each other as they twirl seductively high above the stage which ends in a passionate embrace. Angie Sylvia also returns again to wow the crowd with her Fire Burlesque routine as she dances around the stage with naked flames as she breathes fire and puts some of the torches out with her mouth. Then you have Michal Nowosadko and Zbignew Sobierajski from Poland who are like watching two Greek statues of gods move into some amazing positions that really highlights their strength and power.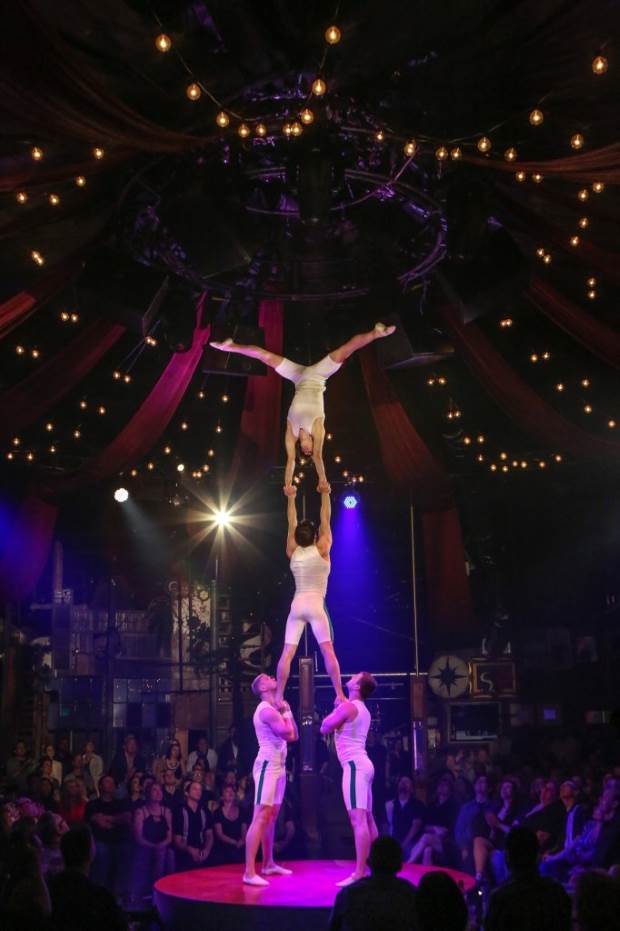 As the night started with bang, it also ends in a bang with the amazing High Wire (The Frat Pack) act that stars Paul Lopez, Raul Resell and Oleksiy Snarskyy from Los Vegas who balance precariously over the stage and really channel their inner rat pack but imagine they were circus performers. This act ends with one of the performers balancing on a chair drinking whiskey as his two partners carry him across the hire with another pole with the chair in the middle. The Frat Pack left the entire audience stunned and ended the night on amazing high which made the atmosphere in the spiegeltent quite electrifying! Once this act finished, the entire cast of ABSINTHE then came onto the stage and into the audience as they danced to the applauds of the crowd which was the perfect way to end this night.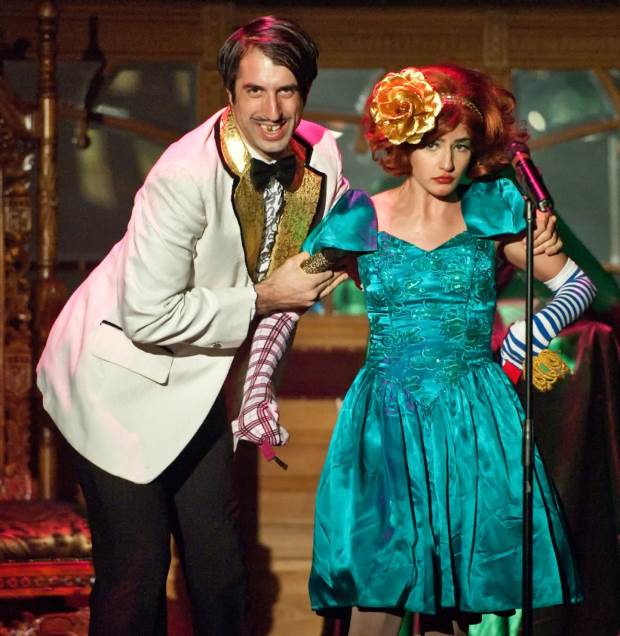 Final Thoughts?
If you want some comparison of ABSINTHE, think of this production as the dark and dirty uncle of Cirque du Soleil who once again had a bit too much to drink and his antics will be burned into your memory. But seriously, ABSINTHE is its own spectacular show of burlesque, acrobatics, ballet and other circus acts that is filled with adult humour that when all thrown into the blender, once again creates the must see event of 2015!
Highly Recommended… 5 out 5!!!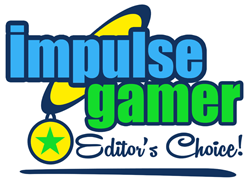 For more information on ABSINTHE and Australian performance dates, visit: www.absintheaustralia.com for details.