Comics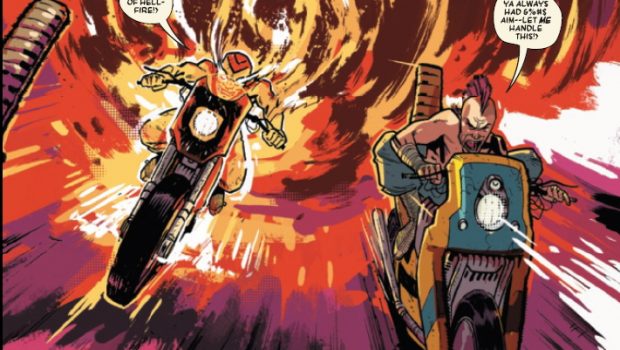 Published on July 19th, 2022 | by Tim Chuma
Spider-Punk #3 Review (2022)
Summary: Didn't roll my eyes once at the punk references may sound like not much but this series does seem to have found its stride.
The Spider-Van is being fixed after the group runs into some trouble "on the road" with a biker gang and they soon find Daredevil the drummer has been observing them. She turns out to be supportive to their cause and they agree to go make Kingpin a visit to sort out what she needs as he has been ripping off a lot of people in need for his own ends.
I have missed the last entry in this story but luckily it does not feel like I missed that much as this type of storytelling seems to be more in the moment than a lot of other storylines I have read. The punk angle seems to work much better now they have gotten into the storyline and I didn't roll my eyes at any of the dialogue which means it has gotten better or I am more invested in the characters.
With all the jumping around that some of the Multiverse stories have been doing recently it is good to stay with one particular universe for an extended period as it is different to anything that has really been done before.
Well worth a look if you are a fan of Spider-Man or just want a different setting for one of the stories involving these characters.
Comic details:
Writer: Cody Ziglar
Penciler: Justin Mason
Cover Artist: Takashi Okazaki
Publisher: Marvel
Published: July 13, 2022