Comics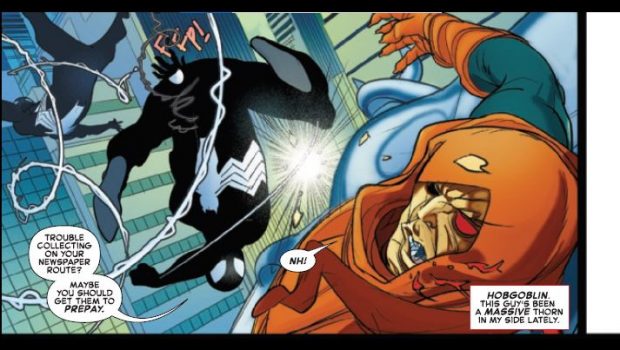 Published on April 17th, 2021 | by Tim Chuma
Spider-Man: Spider's Shadow #1 (2021) Review
Summary: Part of the new What-If series of stories that is getting its own movie later in 2021. If you want to see a different take on the Venom story look no further.
As part of the What-If series of stories we begin the story of what if Spider-Man did not throw away the symbiote suit for Eddie Brock to find and became Venom himself. Spider-Man has more reboots and multi-dimensional stories than most of the Marvel universe so this would should fit in easy.
The story starts at some after Spider-Man has found the suit and he has dropped out of school and Aunt May has cut him off. Peter Parker is troubled by nightmares but also is finding the suit is making him more powerful but it also leaves him exposed when he most needs it and he ends up beating up the Hobgoblin instead of just tying him up and leaving him for the cops to find.
He does go and get Reed Richard's help to try and examine the suit, but rejects the offer to take it off his hands as he "knows a greedy scientist when he sees one" as at this point he has fought quite a few of them.
The Hobgoblin shows up to settle some scores when Peter Parker is having a family moment and things go dark. Come back next time to see how dark it can get.
While this is only a short series, it is probably more suited to bigger Spider-Man fans than the more casual ones from the movies. Seems like there are some more deep cuts here and they wanted to try something different. If you want to see Spider-Man in a different light then I would recommend this series.
Comic Details
Writer: Chip Zdarsky
Penciler: Pasqual Ferry
Cover Artist: Phil Noto
Published: April 14, 2021
Publisher: Marvel