Comics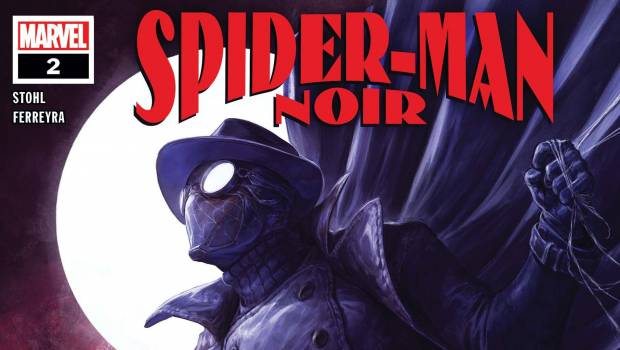 Published on July 31st, 2020 | by Tim Chuma
Spider-Man Noir #2 (2020)
Summary: Spider Man as a gumshoe? Who would have thunk it? Also he has a gun, a dame and some Nazis to punch.
New York 1939, Spiderman has a black trench coat and a Colt .45 and hostilities are building in Europe. After some sort of commotion in New York, Spider Man is on a plane to the UK on a secret mission with his sidekick/helper Huma. They have to get to Berlin but getting there is difficult, and Spider Man can't help but think he is walking into a set up.
Heavy on the plot but lighter on action than some titles, this story is perfect if you want to get your teeth into a more serious Spider Man story. At least more serious than Spider Ham.
Some excellent world building in this one and it is based on a historical setting so there is a lot of retro technology used and Spider Man even has a gun in this one, something he is usually against in most of his other stories.
This is a different continuity to other timelines so hopefully a lot of familiar characters will turn up, but in a totally new context. I did not expect to see the one that does turn up at all, a great story if it doesn't feel the need to at least tease at it.
I would recommend this one if you saw the Into the Spider Verse movie or just want a different take on the usual superhero stories.
Comic details:
Writer: Margaret Stohl
Penciler: Juan Ferreyra
Cover Artist: Dave Rapoza
Published: July 29, 2020