Films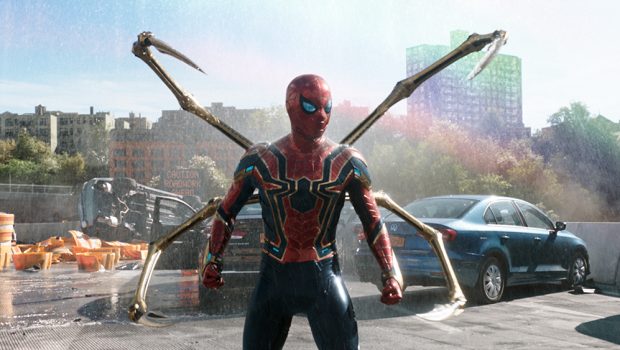 Published on December 21st, 2021 | by Curtis Mayfield
Spider-Man: No Way Home – Film Review
Reviewed by Curtis Mayfield M-H on the 14th of December 2021
Sony Pictures presents a film by Jon Watts
Written by Chris McKenna and Erik Sommers
Produced by Kevin Feige and Amy Pascal
Starring: Tom Holland, Zendaya, Marisa Tomei, Benedict Cumberbatch, and Jacob Batalon
Music by Michael Giacchino
Cinematography: Mauro Fiore
Edited by Jeffrey Ford and Leigh Folsom Boyd
Running Time: 148 minutes
Rating: M
Release Date: the 16th of December 2021
Not since Avengers: Endgame (2019) has a movie been more difficult to unpack without revealing spoilers. It is similar to walking a tight rope without spider‑like abilities. Spider-Man: No Way Home begins right where the last movie left us with Spider-Man's true identity hanging in the wind. Peter Parker (Tom Holland) becomes the most famous, or infamous, person on the planet. He is exposed as being the vigilante superhero framed for murdering Mysterio. Peter and those associated with him become the subject of public opinion with J. Jonah Jameson (a much-welcomed back J.K. Simmons) fanning the flames on his Alex Jones-style "news" show.
Life is miserable for all on Team Spidey. Peter, MJ (Zendaya), and Ned (Jacob Batalon) are still a solid trio as half the world supports them and the other half believe Spider-Man is a murderer. People hurl buckets of fake green blood on our hero and all major universities reject the school leaving pals. Out of pure guilt Peter approaches another older male influence to make things right for him and his friends. He asks Dr. Strange (Benedict Cumberbatch) to perform a mind erasing spell that will make the world forget Spider-Man's identity. What could go wrong?
Director Jon Watts weaves lingering tension and stress into his third Spidey movie, particularly in the opening scenes with angry and excited crowds jumping on Peter and MJ. The same can be said about the scenes between Spider-Man and Dr. Strange. Marvel's wizard is less a father figure to Peter than a reckless uncle wanting to help. A magic spell meant to help Peter and his friends and family live a peaceful life of course goes terribly pear-shaped and introduces villains from previous Spider-Man movies into this one. If you've seen the trailers the following will not be a spoiler. Witnessing actors and characters from almost 20 years ago jump back on the big screen is nostalgia wrapped in a pre-social media blanket of comfort. Actors Alfred Molina, Thomas Haden Church, and Willem Dafoe fly out of the Sam Rami 'Spider-Verse' into this one. They reprise their roles as Doctor Octopus, Sandman, and Green Goblin, respectively.
'The multi-verse is real!?' squeals a nerdy Peter Parker as Dr. Strange explains that instead of making the world forget he brought in those who do know who Spider-Man really is. 'Scooby-Do this crap!', Dr. Strange exclaims to the young team of mystery solvers as the villains run wild in NYC. Peter's conscious is put on trial as Strange explains each villain was facing death moments before their transportation to this world and will die when they return.
This conflict of conscience results in one of the best comic book movie fights brought to screen with Dr. Strange and Spider-Man going head-to-head. Peter believes he can change the evildoer's ways before they are sent to their demise while Strange would rather magic their butts back to Deathville. This leads to amazing visuals and combat sequences that must be seen on the big screen to be appreciated.
Speaking of appreciation, to fully enjoy No Way Home viewers should be well versed in not only the MCU that began with Iron Man (2008) but ALL the Spider-Man movies starting with the 2002 Sam Raimi version, through to the Mark Webb years, and then the present films. Sorry folks, this is just how comic book movies work now. You must be all on deck or let the ship leave without you.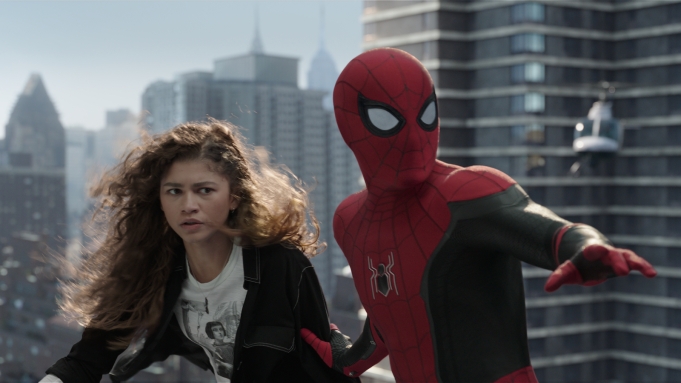 Regarding the actors, the dynamic between MJ, Ned, and Peter is solid as ever. Thankfully, Zendaya has more to do than scream and fall off buildings (while this still happens, her character is more proactive than before). Tom Holland is 100% this generation's Spider-Man as he fits into the role, and the suit, like a glove.
Holland is funny, quippy, and brings the correct amount of warmth and emotional weight to a character as vintage as Spider-Man. Marisa Tomei as the charity organising Aunt May is solid as ever. She offers a light-hearted charm when needed but also provides a concrete path of great power and great responsibility for Peter to follow.
Other familiar faces, such as Happy (John Favreau) and Flash (Tony Revolori), will please fans of the Tom Holland Spider-Verse. Spider-Man: No Way Home is proof franchises can improve as the Marvel/Sony machine churns out another win for the MCU. Just keep those Spidey spoilers to yourselves, true believers.
Summary: Spider-Man: No Way Home is proof franchises can improve as the Marvel/Sony machine churns out another win for the MCU.