Films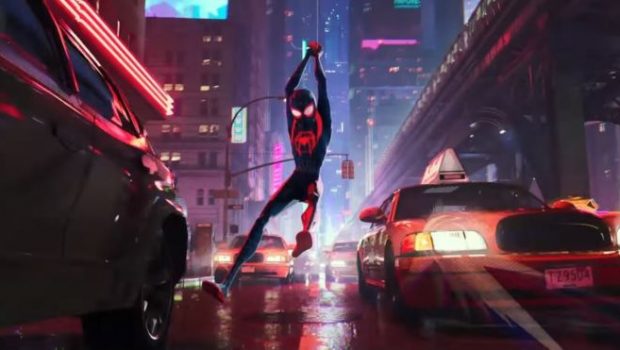 Published on December 15th, 2018 | by Tim Cooper
Spider-Man: Into the Spider-Verse – Film Review
Reviewed by Tim Cooper on the 14th of December 2018
Sony Pictures presents a film by Bob Persichetti, Peter Ramsey and Rodney Rothman
Produced by Avi Arad, Phil Lord, Christopher Miller, Amy Pascal and Christina Steinberg.
Screenplay by Phil Lord and Rodney Rothman, based on 'Miles Morales' by Brian Michael Bendis and Sara Pichelli.
Starring (the voices of) Shameik Moore, Jake Johnson, Liev Schreiber, Hailee Steinfeld, Kathryn Hahn, Nicolas Cage, Lily Tomlin and Mahershala Ali.
Edited by Robert Fisher Jnr.
Running Time: 117 minutes
Rating: PG
Release Date: the 13th of December 2018
Everyone has their favourite version of Spider-Man, including the live action iterations (Tobey Maguire, Andrew Garfield and Tom Holland), the perfectly cheesy 1994 cartoon TV series and even the recent PlayStation 4 video game. For those only familiar with the films, Spider-Verse is a different experience that should be approached with an open mind. It is an animated feature made for kids but one that outgrows Peter Parker's initial story. It steers casual fans into a divergent experience and still successfully hits familiar emotional beats.
Spider-Verse starts with the emotionally-driven psychosis of Wilson Fisk (Liev Schreiber) forcing him to tear open a cross-dimensional portal of alternate universes. After Spider-Man (Jake Johnson) fails to stop the dangerous experiment, New York City warps into a collision of joint identities and chaos. Alternate Spider-Heroes begin spilling over into our world from strange dimensions. They must unify to prevent a violent end to each of their worlds.
The film's main protagonist is not traditionally Peter Parker but Mile Morales (Dope's Shameik Moore). He is overly protected by his father, Jefferson (Brian Tyree Henry), who is a policeman and sometimes embarrasses him in public. Jefferson warns him to be careful of his Uncle Aaron (Mahershala Ali). Nonetheless, Miles takes to graffiti tagging with Aaron and is then bitten by a familiar radioactive spider. The bite prompts weird changes in his body that disrupt his chances of gently romancing a girl in school named Gwen Stacy (Hailee Steinfeld).
While exploring the underground maze of the Big Apple, Miles watches helplessly from the shadows as Spider-Man fights the Green Goblin in an immense battle of brute force versus agility. As Miles witnesses a seemingly fatal battle for Spider-Man, a dangerous new world opens where he is expected to become the final hope for his fallen hero. However, he is not alone as different variations of Spider-Man emerge from parallel dimensions to form the Spider-Heroes group. These new characters include Peni Parker, Spider-Man Noir and Spider‑Ham, along with some help from Gwen Stacy and Aunt May (Lily Tomlin).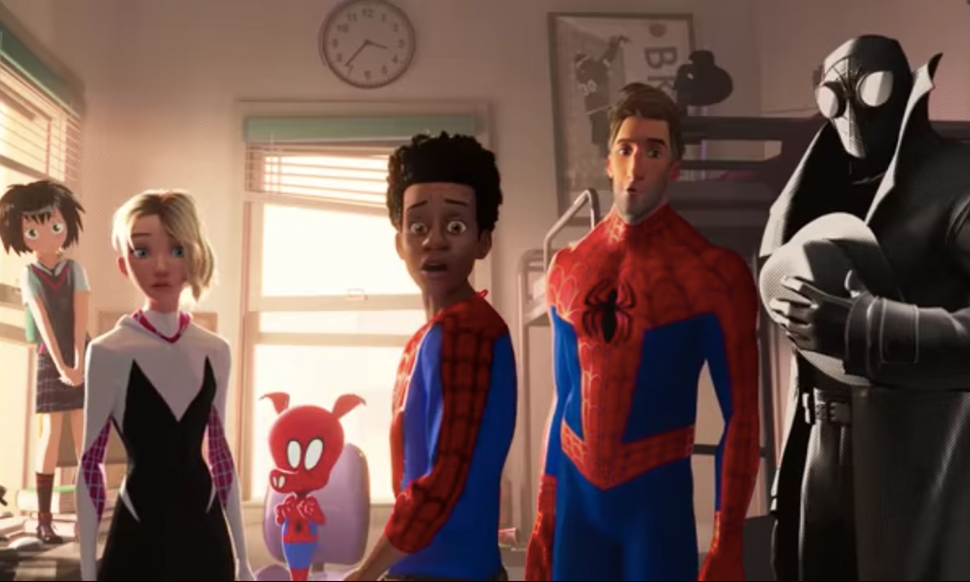 Spider-Man is an incredibly well-loved superhero character who has web-swung his way through decades of Marvel comic books, toys and various multimedia. Spider-Verse marks the most diverse and cinematic appearance of the iconic character. Each alternate universe presents a radically different Spider-Man from the red and blue wisecracker we know. The Spider-Heroes are one of the most unique and refreshingly bizarre super groups ever committed to film, and span across race, gender, nationalities and genre. The new breed of heroes leap onto screen as if thrown from a tumble dryer of realities.
The choice of animation by directors Bob Persichetti, Peter Ramsey and Rodney Rothman instead of live-action was wise. It allows for the most far-reaching aspects of the story (parallels universes) and the action scenes to breathe in exaggerated and elaborate forms. Time and space fractures are complex subjects to explore visually, which makes animation perfect for a story featuring these science fiction ideas. While the style and themes are directly aimed at adolescents, there is enough material for Spidey-Mums and Dads to enjoy. The film is aware that pondering time is a bi-product of age. Moments highlighting the denial of self-image and relationship woes will give adults audiences some laughs in contrast to the youthful energy of the style and pacing.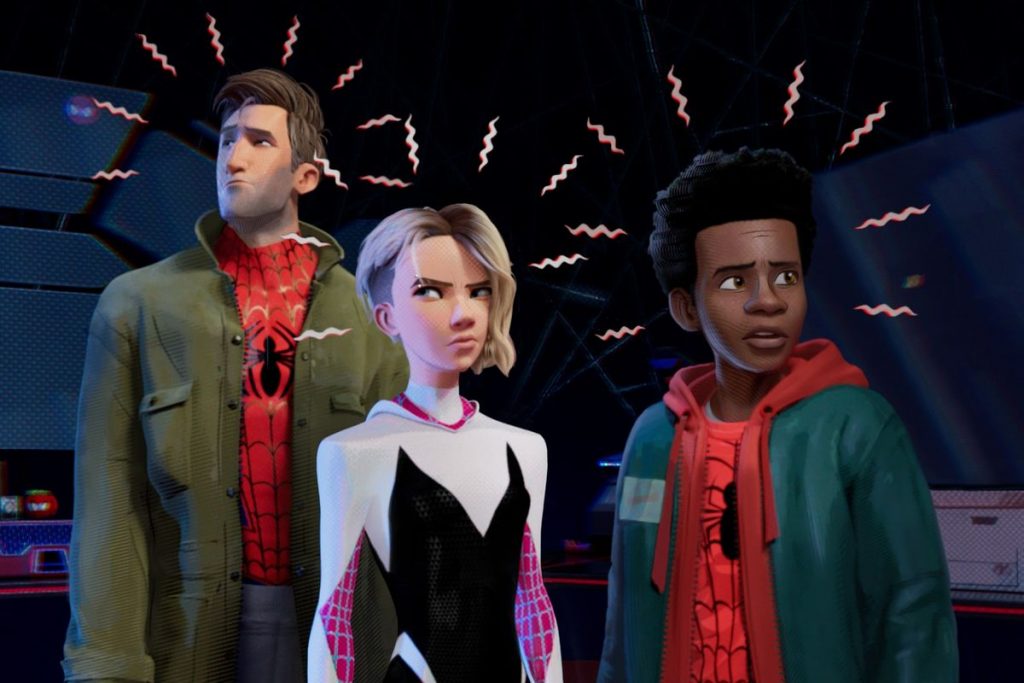 The well-chosen voice actors add varying tonal qualities that provide life to the characters. Shameik Moore captures an exuberance and emotional longing in Miles. Meanwhile, Mahershala Ali has a friendly but measured delivery that gives heart to Uncle Aaron. Jake Johnson is perfect for the emotionally battered Peter Parker. His mix of droll cynicism and nonchalant delivery infers the voice of a unique and disgruntled Spider-Man. Other cast highlights include Nicolas Cage at his infallible best in the role of Spider-Man Noir, Hailee Steinfeld as Gwen Stacy, and the always funny Kathryn Hahn (Parks and Recreation; Private Life) who voices Doctor Octopus (Olivia Octavius) with crazed precision.
The computer animation looks magnificent on the big screen and includes many stylistic nods to the characters' comic roots. The deliberate 'bleeding' effect found in the comics from the pressing of ink adds a hand-crafted look to an already technically proficient film. Spider‑Verse is also loaded with Easter eggs and hidden gems for both comic and cinema fans (keep an eye on the billboards in Time Square for example). Viewers who enjoy the 3D experience will be thrilled at the high rise drops during the action scenes and the immersion into a fully realised and occasionally overwhelming cartoon world.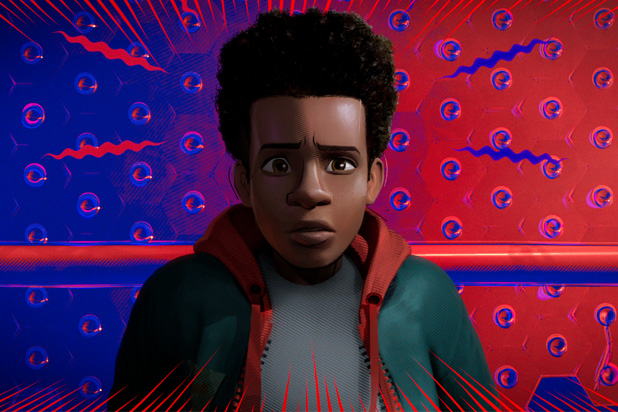 That said, Spider-Verse forgoes its sharp intro by becoming wayward in style and pacing during its climax. The over-stylised action coupled with a running time of about ten minutes too long will have young ones distracted and attempting to web away early. Some brevity would have complimented the razor-sharp intentions and ideals. While the filmmakers pack many characters into the story, the well-constructed screenplay by Phil Lord (The Lego Movie) and Rodney Rothman  is still dutifully balanced. It resists hamming up Miles or being overly nostalgic for Peter Parker.
While Spider-Verse's themes of courage, choice and emotional growth are common but effectively used, it is not a regular Spider-Man movie or a conventional comic book film. Instead, its entire cast shines and amplifies the much-needed movement for both gender and racial diversity in mainstream Hollywood cinema. By offering a multifarious cast of heroes, it sets a new standard for comic book-inspired cinematic crossovers.
Summary: Its entire cast shines and amplifies the much-needed movement for both gender and racial diversity in mainstream Hollywood cinema.