Comics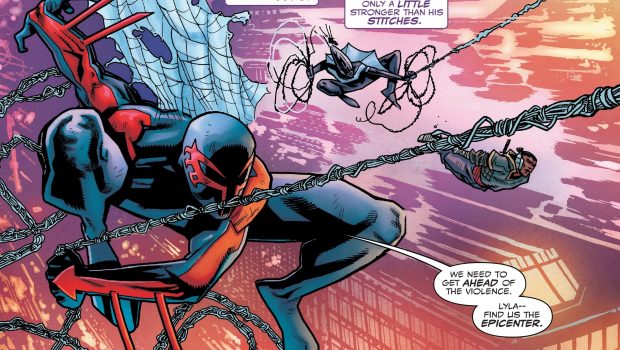 Published on May 16th, 2023 | by Howard Smith
SPIDER-MAN 2099: DARK GENESIS #2 REVIEW
Summary: Nueva York is on the brink of destruction, but Miguel has not given up yet.
As the violence rages on, Miguel finds equanimity from those around him and learns it will take a team to halt the chaos.
After the showdown in Spider-Man 2099: Dark Genesis #1, Miguel is surrounded by familiar faces and one unfamiliar with a knack for human flesh. Miguel is introduced to Blade, who specializes in the corpuscles of human anatomy but remains uneasy about his involvement. Ghost Rider and Miguel display their so-called friendship as back-and-forth banter on what the exchange of respect means to both. Ghost Rider may still be upset about Miguel leaving his Spire in a less favorable condition. Meanwhile, Spider-Woman hatches a plan to end Carnages' bloodlust through a series of stored data intel Ghost Rider provides about the monstrosity in Spider-Man 2099: Dark Genesis #2. Concurrently, a new Venom origin story is born, and a new foe reveals himself to aid Carnage in his brutal path. There is truly no rest for the wicked in the universe of 2099. Nueva York is on the brink of destruction, but Miguel has not given up yet.
Orlando (Gotham Academy, Starward, Heavy Metal) proceeds to enlighten new versions of beloved characters from another universe while at the same time keeping a steady pace of the story. The similarities are there, but with a unique twist that sets this world apart from the 616 Universe. Does Blade look like an urban ninja in a futuristic neon city? He sure does and the concept of this Blade looks cool. In Spider-Man 2099: Dark Genesis #2, Orlando adds depth by adding in the backstory to fill in the gaps missing as to where Carnage might have come from or was designed to do. We understand that Carnage isn't the only property of Alchemax and more secrets await the heroes of Nueva York. What's interesting about this comic book and Orlando's writing is that it doesn't attempt to bore a reader with the details, but instead makes it digestible to latch onto.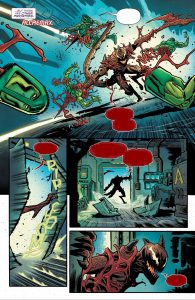 Comparatively, Mason (DIE!NAMITE, Star Trek, New Mutants) brings the same energy he had in the first issue of the comic book series. There are no jarring images that distract from the overall story. Interior work flows succinctly with Orlando's writing. Detail on characters and scenery have improved and panel work makes for a great display of storytelling mastery. Mason does his due diligence in recognizing the imagination that Orlando has in store for Miguel. The illustrations don't fall short of entertaining. However, the artwork wouldn't gloss as much without the coloring skills of Boyd (House of Waxwork, Evolution, Justice Society of America). Boyd executes a fantastic exhibition of coloration and continues to do so throughout the rest of Spider-Man 2099: Dark Genesis #2. Uniquely, Petit (The Avengers, Black Widow, Captain Marvel) outperforms himself. Packed with more intensity and value Boyd establishes key components in dialogue, reveals, introductions, narration, and necessary sounds within the comic book.
Identically, Bradshaw (Action Comics, Army of Darkness, Amazing X-Men) and Menon (Chasity, Deadpool, Good Boy) coproduce a sensational cover that showcases a possible final battle. As veteran cover artists, Bradshaw and Menon collaborate perfectly and deliver an eye-popping cover worth grabbing.
Spider-Man 2099: Dark Genesis #2 has a lot to unpack in the next issue. Hopefully, Spider-Man 2099 can stop Carnage and his hive in time. There's no telling what will happen next. If you're interested in seeing what's next for Miguel catch this issue at your local comic book store, amazon, or anywhere comics are sold.
Comic Details
Writer: Steve Orlando
Artist: Justin Mason
Colorist: Jordan Boyd
Letterer: VC's Corry Petit
Cover Artists: Nick Bradshaw, Neeraj Menon
Editor: Mark Paniccia
Publisher: Marvel Entertainment