Comics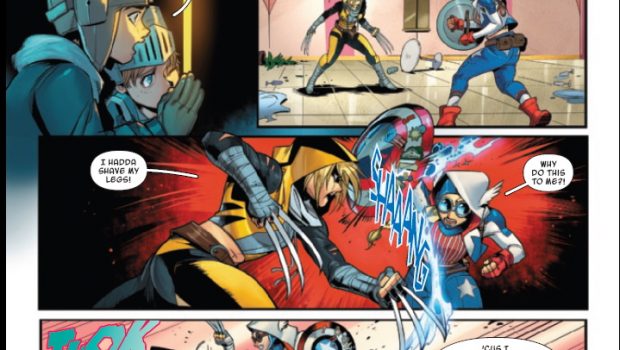 Published on April 26th, 2022 | by Tim Chuma
Spider-Gwen: Gwenverse #2 (2022) Review
Summary: Things are starting to get more complicated in this story but still easy enough to follow. After this point it might be harder to pick up if you are coming in new to the story.
To stop Gwen Stacy destroying the timeline Ghost Spider and ThorGwen are travelling through time to pick up the other versions of Gwen Stacy they run across to stop them from making changes. In this issue they run into Gwen Rodger and Wolverine and also the agents of the big bad trying to stop them from undoing the damage.
From this point the story is going to start getting too confusing with all the versions of Gwen Stacy, they have managed it up until this point but as it goes forward there will be too much to explain so probably best to just go back to the start if you are reading from this point onwards.
There are still cute and funny moments in the story but there is also the raising of the stakes with the other side trying to stop them.
I would recommend this one if you are a fan of the Ghost Spider and want to see a story based around her in the Multiverse. There is already one involving Miles Morales but that story does not have all the different versions of himself running around in the same story.
Comic details:
Writer: Tim Seeley
Penciler: Jodi Nishijima
Cover Artist: David Nakayama
Publisher: Marvel
Published: April 20, 2022