Comics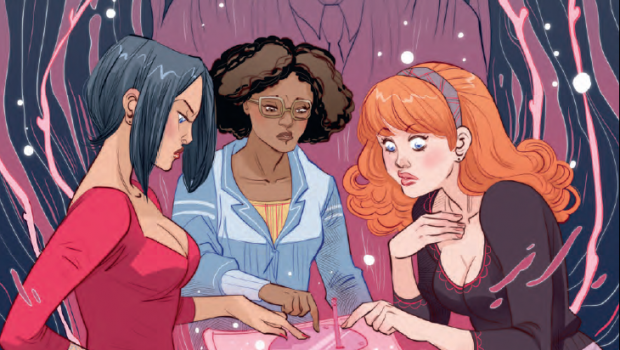 Published on December 20th, 2016 | by Lyla Saudi
Spell on Wheels #3 Comic Book Review
Summary: Claire, Andy and Jolene's next stop is to suburbia and home to some simple housewives with some not so simple magical problems.
Three young witches on a nationwide road trip to find their stolen magical items find themselves heading to suburbia in the 3rd issue of Spell on Wheels, written by Kate Leth, illustrated by Megan Levens and with colours by Marissa Louise. But before the girls can recover their valuable belongings they must first help a group of non-magical women with a dangerous magical problem.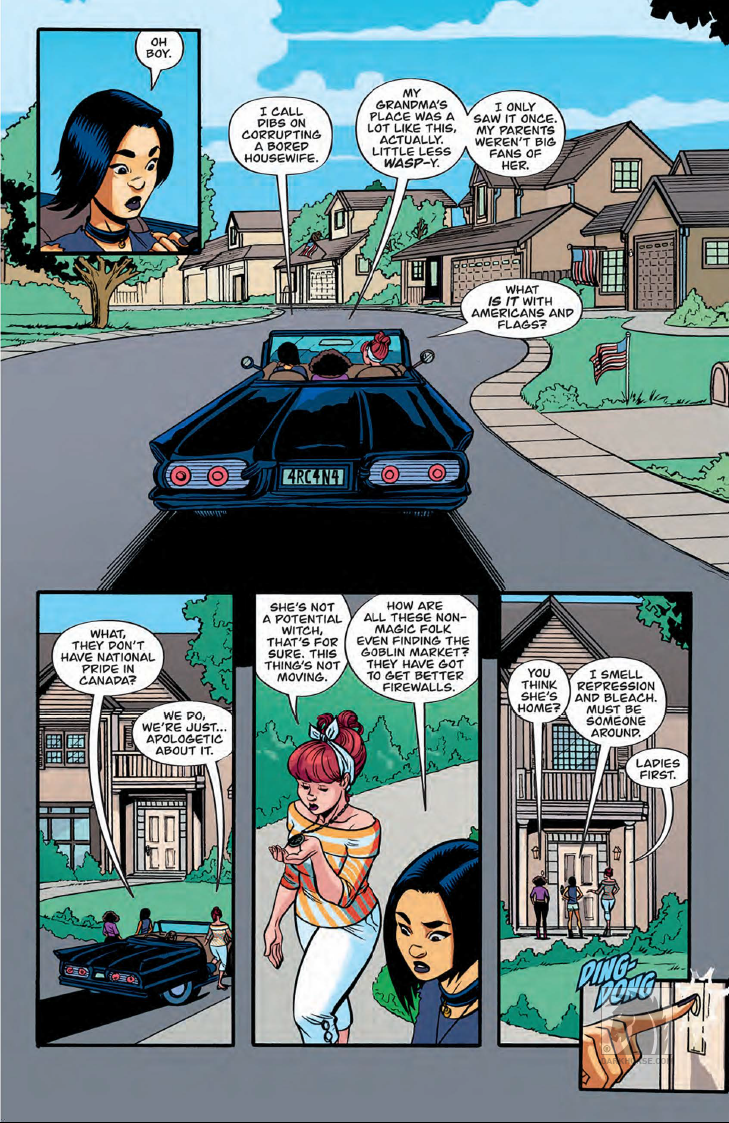 The girls are still nowhere closer to finding out who robbed them but that hasn't stopped their determination to reclaim what is theirs. Tracking down their items via the Goblin Market (an online source for buying and selling anything magical) takes them to their next destination – New Haven, Connecticut and home to the seemingly innocuous housewife Candace Falmer.
But what would a housewife in the middle of suburbia with no magic skills want with a few rare spell books and Jolene's planchette? What secrets is she hiding that she needs to turn to the dark arts of magic to help her? The answer lies with the supernatural force that is lurking in her house…
And with youngest and newest witch Andy all too eager to help communicate to the spirit, she soon finds herself connecting to a much more powerful and magical force – that wants one of them dead.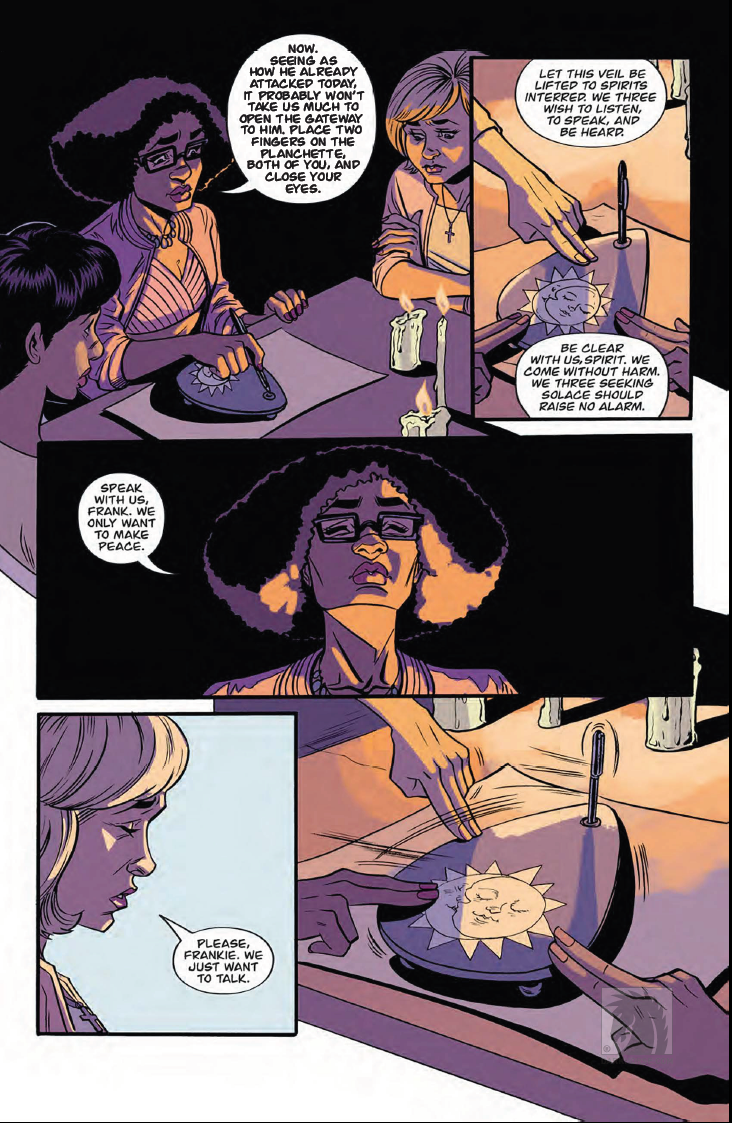 Writing
This series is developing into an enjoyable story, with each issue showcasing a new destination and adventure to be had. The thief didn't make a debut this time but the mastermind behind it all dabbled a big toe into the works leaving us with a pretty interesting and dangerous cliffhanger. This issue takes on a darker and more magical theme than previous issues, while also tactfully tackling real world issues that a lot of people struggle to come to terms with – the issue of being gay. The characters are developing their personalities at a good pace as we see more of Jolene's sarcastic humour, Andy coming out of her shell to take control, and even though Claire wasn't a stand out character it was nice to see her take more of a background role to let the other two characters shine.
Artwork
The cover art for each issue has been drawn by a different artist. Ming Doyle produced the first cover, Paulina Ganucheau the second and Marguerite Sauvage for this issue. All have a different theme and vibe and while not cohesive, they each give you an insight into what the comic has in store for the reader. Marissa Lousie produces colours that are fun and bubbly that then takes on a darker theme with hues of purples and oranges as the witches use magic (and there is a lot more magic used in this issue). There is fluidity to how the characters move and interact with each other and as always are individually drawn to represent their own personalities, emotions and body language.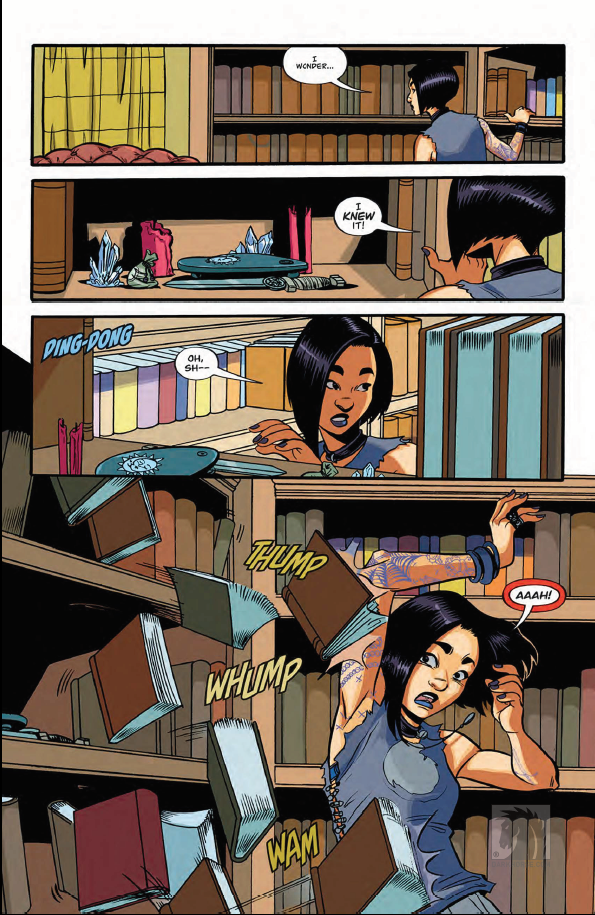 Final Thoughts?
I like where this series is heading, taking on a darker magical vibe while maintaining the adventurous and high spirited feel of the three best friends road tripping. Spell on Wheels #3 is available on the 21st of December so don't miss out and pre-order your copy today.
Comic Details
Publisher: Dark Horse Comics
Writer: Kate Leth
Artist: Megan Levens
Colourist: Marissa Louise
Cover Artist: Marguerite Sauvage
Genre: Crime, Fantasy
Publication Date: 21st December, 2016
Format: FC, 32 Pages; Miniseries