Comics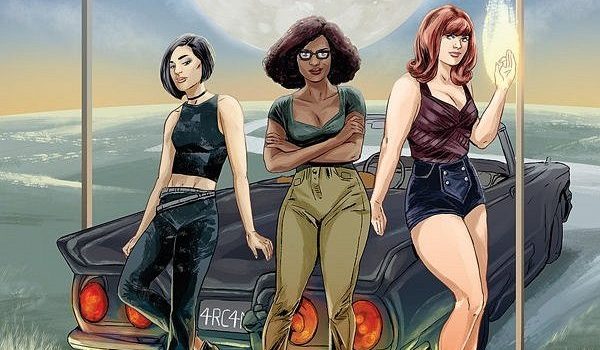 Published on October 29th, 2016 | by Lyla Saudi
Spell On Wheels #1 Comic Book Review
Summary: Magic meets a road tripping adventure to take back what was stolen from three young witches.
Three young modern day witches are robbed of their magical items, and they will have to hit the road to track down the mysterious thief before he does any damage to – or with – their possessions in Spell on Wheels #1, written by Kate Leth, illustrated by Megan Levens, colours by Marissa Louise and with cover art done by Ming Doyle.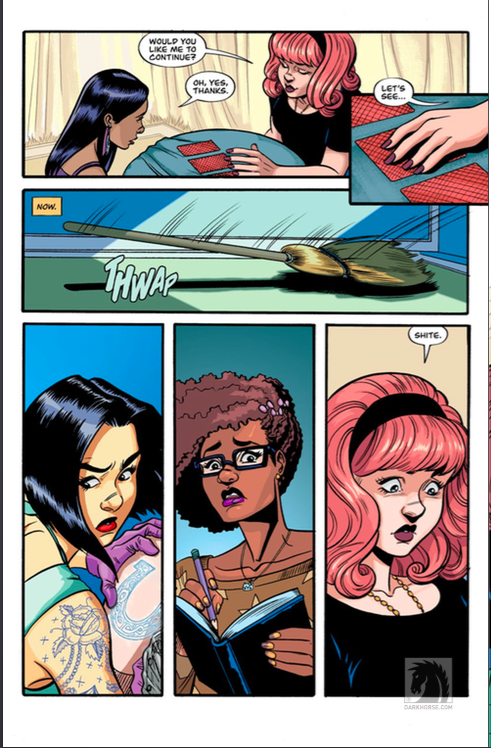 It is a beautiful sunny day in Northampton Massachusetts, USA. But, we quickly find out it is not sunny enough for the three owners of a house that has just been broken into. And these owners are probably ones you don't want to mess with because, well, they are witches.
Let's meet them…
Jolene Nguyen. 27 years old. Abilities: Technopath (manipulate electronics with her mind) and emotional manipulator (Yep, she can manipulate how you feel).
Claire Bettany. 26 years old. Abilities: Psychic intuition, visions, and reading the cards (basically she can see the past, present and future – pretty cool ability).
Andy Highsmith. 23 years old. Abilities: Mastery in spells, charms and potions (and the newbie to the group).
Living and working together operating a tattoo and tarot market stall (yes, you can get your tarot read while getting a tattoo), Claire's psychic intuition is immediately alerted to the break in, and upon quickly returning to the house the girls soon discover that the thief has stolen all of their magical items that they hold close to their hearts…and some candles (I mean who steals candles?).
With smart phones buzzing they soon learn that their items are being sold online to buyers all over the country, sparking a road trip fuelled by the sheer determination to retrieve everything that was stolen from them, and hunt down the thief to give him something to be sorry for… but what they don't know is that the thief is closer to them than anyone would have thought.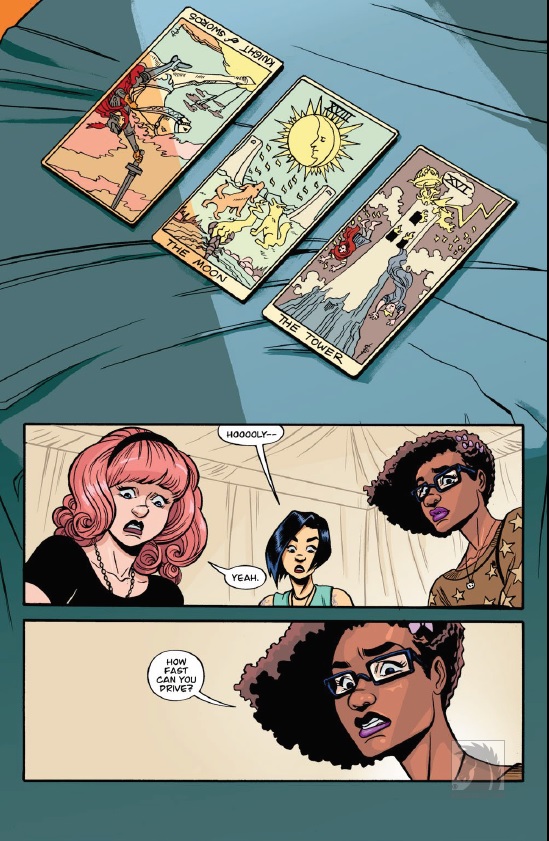 Writing
This is a story about three roommates who are more than friends, they are family. It is upbeat and humorous while also touching on elements of seriousness and vulnerability. Magic is explored but it not the main focus of the story. The pacing is good building up towards the end providing pathways for big road tripping adventures to be had. There may be a small risk of the characters being stereotyped into 'power trio' personalities, but to begin with they are all cleverly individualised.
Artwork
Spell on Wheels #1 has cartoonish feel that is packed with a lot of detail. The colours are not gloomy or of a palette that you would associate with the term 'witchery', instead they are warm, modern and cheerful. Each character is drawn with their own individual personality, ethnicity, body shape and clothing in mind. Initially there was some confusion differentiating the thief character from the character getting a tattoo done (at the start of the story) but that was only a minor issue. I liked how the use of smart phones gave it a modern day edge and the cover art shows you what you are in for.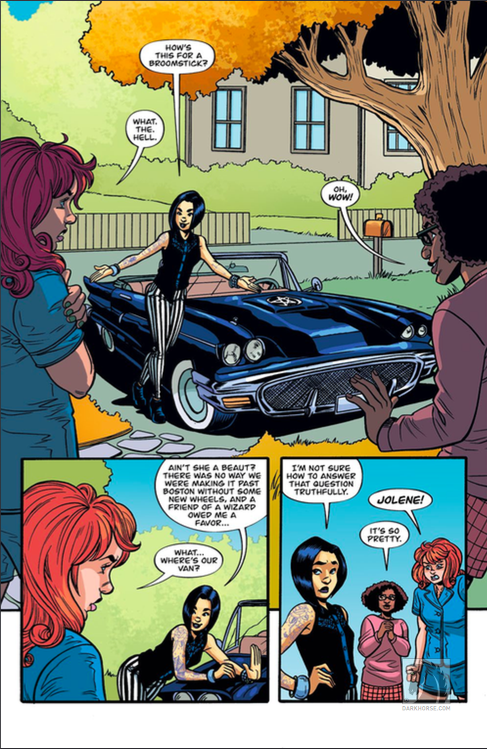 Final Thoughts?
It is a good start to the five part mini-series that has a lot to do with girl power. I am interested to see how the story will develop and where their road tripping adventures will take them. I would recommend picking up a copy because it is fun, light hearted and easy to read. So why not give it a go?
Comic Details
Publisher: Dark Horse Comics
Writer: Kate Leth
Artist: Megan Levens
Colourist: Marissa Louise
Cover Art: Ming Doyle
Genre: Crime, Fantasy
Publication Date: October 19th, 2016
Format: FC, 32 Pages; Miniseries