Games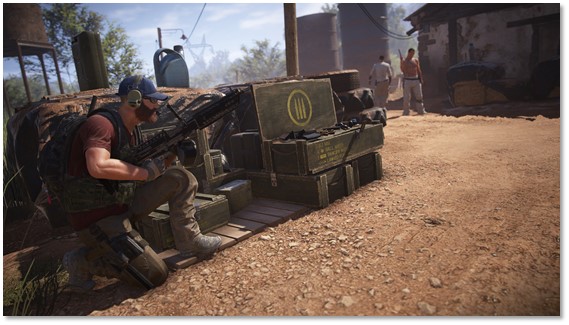 Published on July 20th, 2018 | by Admin
SPECIAL OPERATION 2 FOR TOM CLANCY'S GHOST RECON® WILDLANDS COMING JULY 24
Sydney, Australia — July 20, 2018 — Today, Ubisoft announced Special Operation 2 for Tom Clancy's Ghost Recon® Wildlands, the second free major update for the second year of post-launch content. Special Operation 2 will be released on July 24 on PlayStation®4 computer entertainment system, the Xbox One family of devices including Xbox One X and Windows PC. The update will contain a brand-new PvE experience, a new Ghost War PvP update, as well as another highly requested feature from the community, a permadeath PvE game mode called Ghost Mode.
Ghost Mode will expand on the game's PvE experience by introducing a new mode, for both solo and co-op, which raises the stakes with thrilling conditions such as permadeath and real reloading. Available on July 24 for Year 2 pass owners, Ghost Mode will truly put players' skills to the test by tasking them with taking down the Santa Blanca Cartel under new conditions for exclusive rewards. The full list of new Ghost Mode conditions are:
Permadeath: If players are not revived when down, their game is over and progression is reset.
New Loadout: Players will only be able to use one main weapon and one handgun.
Real Reloading: When players reload with a partially full clip, remaining bullets will be lost.
Friendly Fire: Players' shots and actions can cause damage to teammates.
Gear Management: Players can only switch weapons at ammo boxes or by looting enemies.
Teammate Removal: For a true solo experience, players can now choose to play without AI teammates (also available in the main campaign of the game).
In addition to Ghost Mode, Special Operation 2 will also have a wealth of new Ghost War PvP–focused features, including a brand-new free-roam camera tool to make matches more spectator- and tournament-friendly. These features include:
Two New PvP Classes will be introduced (available starting July 24 for Year 2 Pass owners)
Two New PvP Maps, including a highly requested snow-terrain map.
Observer Mode: A new spectate feature that can be used to watch and showcase custom PvP matches through specific tools and a free-roam camera.
New Ranked Features: Introduction of a new Progression Bar that tracks Ranked progress, showing players their position in the current league.
Post-Match Celebration Screen: A new post-match screen where the winning team is showcased.
Social Items: A new feature consisting of emotes, voice lines and victory poses to further personalize players' experiences (also available in the main campaign of the game).
For players looking to try out all these new features early, the Ghost Recon Wildlands Year 2 Pass offers seven-day early access to Ghost Mode and the two new Ghost War classes, along with exclusive customization packs. Non-owners of the Year 2 Pass will be able to access these features for free on July 31. The Ghost Recon Wildlands Year 2 Pass is available digitally for $44.95 AUD. For further information, please visit: ghostrecon.com.
Tom Clancy's Ghost Recon Wildlands Year 2 will continue to deliver substantial post-launch support with free major Special Operation updates, each of which will feature a unique theme, updates for the PvE campaign with special free missions and special challenges with exclusive rewards, updates for the Ghost War 4v4 PvP experience and community-requested features. The team is committed to supporting the game, offering free new content and continued improvement of the core experience.
For more information about the contents of Special Operation 2, please visit https://news.ubisoft.com/article/ghost-recon-wildlands-special-operation-2-adds-permadeath-mode-new-ghost-war-features.