Events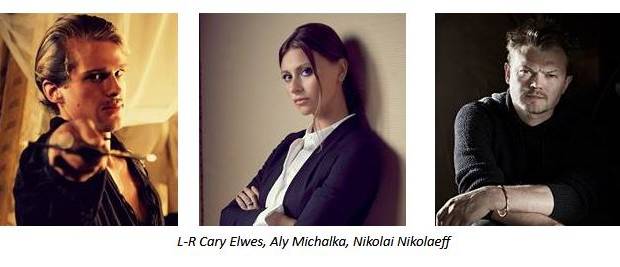 Published on September 24th, 2018 | by Admin
SPECIAL GUESTS CARY ELWES, ALY MICHALKA & NIKOLAI NIKOLAEFF ADDED TO OZ COMIC-CON SYDNEY LINE UP
L-R Cary Elwes, Aly Michalka, Nikolai Nikolaeff
Monday, September 24, 2018 – Cary Elwes, known for his role in the cult classic hit THE PRINCESS BRIDE, will be appearing at Oz Comic-Con Sydney this weekend. Joining Elwes and previously announced guests is actress and musician Aly Michalka and Australian actor Nikolai Nikolaeff.
Soon to be appearing in season 3 of the hugely popular Netflix series STRANGER THINGS, Cary Elwes is also known for starring in Mel Brook's ROBIN HOOD: MEN IN TIGHTS and his role as "Dr Lawrence Gordon" in the SAW franchise.
Aly Michalka appears in the hit CW series IZOMBIE and played the lead role of "Marti Perkins" in HELLCATS, as well as starring alongside Emma Stone in EASY A. In addition to her film credits, Aly is an accomplished musician, having formed Aly and AJ with her sister.
Australian actor Nikolai Nikolaeff is best known as the Russian mobster "Vladimir Ranskahov" in the critically acclaimed Marvel/Netflix series DAREDEVIL. Nikolaeff's other TV credits include the Netflix mystery drama THE OA and his role as the White "Rhino" Ranger in POWER RANGERS JUNGLE FURY.
Elwes, Michalka and Nikolaeff join a stellar line-up of film & TV guests attending and Sydney convention including:
Australian actress Phoebe Tonkin, best known as the hybrid werewolf/vampire "Hayley Marshall" in the popular TV shows THE VAMPIRE DIARIES and THE ORIGINALS
SHADOWHUNTERS heartthrob Matthew Daddario, who plays "Alec" on the TV series based on the popular "Mortal Instrument" books written by Cassandra Clare.
Dominic Sherwood known for his role in the teen vampire film VAMPIRE ACADEMY and more recently the hit fantasy series SHADOWHUNTERS.
Iconic Star Trek actress Gates McFadden, best known for portraying "Dr. Beverly Crusher" in STAR TREK: THE NEXT GENERATION.
Australia's own Dichen Lachman best known as "Reileen Kawahara" in Netflix's smash hit ALTERED CARBON. Lachman also starred in Joss Whedon's Dollhouse, as well as AGENTS OF S.H.I.E.L.D, SUPERGIRL, THE 100 and
Beloved voice-over star Christy Carlson Romano, who is best known for lending her voice to the titular character in Disney Channel's KIM POSSIBLE.
Aussie Nathaniel Buzolic who also starred in PRETTY LITTLE LIARS and Mel Gibson's HACKSAW RIDGE. Best known for his role in THE VAMPIRE DIARIES and THE ORIGINALS.
Dominic Keating known for his role in the cult TV series, STAR TREK: ENTERPRISE.
Clare Kramer, best known for her role as the vengeful goddess "Glory" in the cult classic BUFFY THE VAMPIRE SLAYER.
Anthrax guitarist and thrash metal legend Scott Ian, who also appeared in THE WALKING DEAD.
All guests will participate in panels across the weekend, as well as photograph and autograph sessions with fans.
Oz Comic-Con Sydney – International Convention Centre Sydney – September 29 and 30
Tickets on sale now at www.ozcomiccon.com/tickets