Events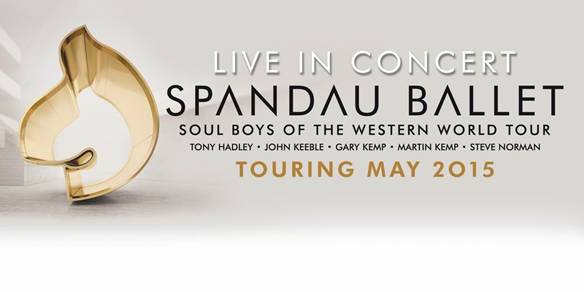 Published on November 4th, 2014 | by Admin
SPANDAU BALLET to tour Australia in May next year!
When they play live, they have allowed their exceptional songcraft to be revealed. It's good to have these soul boys back" **** The Telegraph 
"A Swagger akin to when their early shows were invitation-only gatherings of London's trendiest" *** The Standard 
"When (Steve) Norman stepped up front to blow his scripted sax break in "True," the crowd received it with the kind of shouts and applause New Yorkers always gave Clarence Clemons when he took his thundering-tenor spotlight in Madison Square Garden for Bruce Springsteen's "Jungleland." The ecstasy in the Albert Hall was that kind of loud." Rolling Stone 
"Blistering" **** The Times
Dainty Group announced today that Spandau Ballet, one of the most successful and influential British bands of the 1980s, will bring their 'Soul Boys of the Western World Live' Tour to Australia in May next year. Kicking off in Brisbane on Wednesday 13 May and playing shows in Sydney, Melbourne and Perth.
Tickets and VIP Packages go on sale at 10.00am on Wednesday 12th November.  Ensuring there is something for every fan, Dainty Group is offering a range of ticket options from $49.90* to $99.90* (*plus transaction and credit card charges where applicable).  Tickets can be purchased from www.ticketek.com.au. 
All five original band members of Spandau Ballet, Tony Hadley, John Keeble, Gary Kemp, Martin Kemp and Steve Norman will come together to perform their smash-hit anthems for Australian audiences for the first time since their 2010 Reformation World Tour which saw the band reunited. 
Ahead of their 2015 concert tour Spandau Ballet are in Australia this week to attend special screenings in Melbourne and Sydney of their new film 'Soul Boys of the Western World' which was the 2nd highest grossing film in the UK when it was released there earlier this month.
The band's visit this week will also promote their brand new best-of album The Story – The Very Best of Spandau Ballet which also features 3 brand new tracks, in stores now and online via Warner Music Australia. 
Spandau Ballet defined the 80s in the way that The Who defined the 60's, Bowie defined the 70's and Oasis defined the 90's. Having sold over 25 million records worldwide, scored numerous multi-platinum albums and amassed 23 hit singles across the globe including Gold and True, which have endured for more than three decades.
Emerging from Soho's ultra hip Blitz Club in 1979, Spandau formed at school in North London before becoming the hottest unsigned band on the planet.  From underground, fashion and music obsessed working class Londoners, to global superstars, the band set the pace, the styles and the sound of the 1980s. Not only did their albums sell by the millions, but their look and style impacted on the fashion world and beyond.  They created their own style, combining creativity with entrepreneurship and the spirit of the youth of the early 80s. 
AUSTRALIAN TOUR DATES: 
Brisbane         Wednesday 13 May 2015      Brisbane Entertainment Centre
Sydney            Friday 15 May 2015               Qantas Credit Union Arena
Melbourne     Tuesday 19 May 2015            Rod Laver Arena
Perth               Friday 22 May 2015               Perth Arena 
TICKETS AND VIP PACKAGES ON SALE AT 10.00AM WEDNESDAY 12TH NOVEMBER
Tickets from $49.90* to $99.90* www.ticketek.com.au or 132 849 
SOUL BOYS OF THE WESTERN WORLD OFFICIAL TRAILER
TRUE
https://www.youtube.com/watch?v=AR8D2yqgQ1U
GOLD
https://www.youtube.com/watch?v=gSq8ZBdSxNU
STEAL https://www.youtube.com/watch?v=yj9rv5JAoR0&list=PLGrSx00hOY1oTNrHiawA9wZFNVnKwIrap  
www.youtube.com/user/OfficialSpandau
https://www.facebook.com/spandauballet
https://twitter.com/SpandauBallet