Comics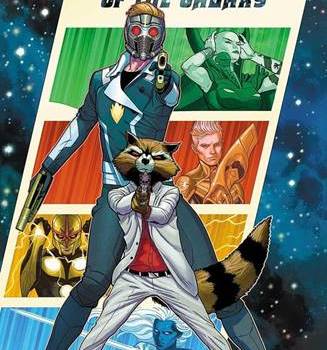 Published on January 23rd, 2020 | by Andrew Bistak
SPACE IS THE PLACE TO BE IN THE GUARDIANS OF THE GALAXY #1 TRAILER!
Someone has to guard the galaxy – but who will accept the mission? And will they survive it? See who answers the call in the GUARDIANS OF THE GALAXY #1 trailer featuring writer Al Ewing, Editor in Chief CB Cebulski, and Editor Darren Shan!
Cosmic peace is hanging by a thread as the major galactic empires bristle against each other. Amidst the chaos, the Gods of Olympus have returned — harbingers of a new age of war, reborn to burn their mark on the stars themselves! The legendary Star-Lord leads Rocket Raccoon, Nova, Marvel Boy, Phyla-Vell, and Moondragon on a mission to restore order to the stars!
"The galaxy is just one bad day away from complete and total collapse, and that day is here," teases Shan.
"Guardians of the Galaxy is where the Marvel cosmic universe, as we know it, comes alive. Marvel space is about to come crashing into the Marvel Universe in a big way," says Ewing.
Guardians of the Galaxy #1 by Al Ewing and Juan Cabal is on sale now in comic shops, on the Marvel Comics App, and on Marvel.com! To find a comic shop near you, visit www.comicshoplocator.com or call 1-888-comicbook.