Switch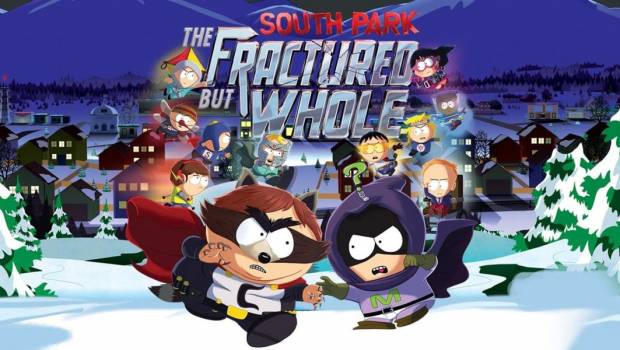 Published on April 24th, 2018 | by Admin
South Park The Fractured But Whole Nintendo Switch Review
Summary: In essence, South Park The Fractured But Whole Nintendo is a port of the 2017 game that although takes a slight graphical hit on the Nintendo Switch, it's still a well written action RPG filled with that trademark South Park humour and really worth a play on this console if you're a fan.
Originally released in 2017 on the PC, PlayStation 4 and Xbox One, it's now time for Nintendo Switch owners to experience the interactive craziness of South Park The Fractured But Whole in this action RPG that channels the psyche of South Park creator's Matt Stone and Trey Parkers. Like the original game, it presents an authentic recreation of the infamous TV show complete with writing and voice acting which makes you feel like a part of a series of extended episodes.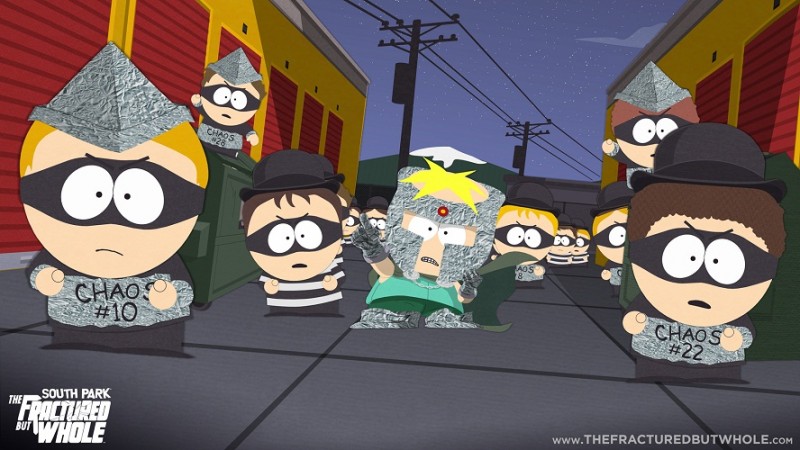 Unlike the other formats of this game, the Nintendo Switch version of South Park The Fractured But Whole allows you to play this game in 'tablet' mode that due to its portability is perfect for playing this game almost anywhere. However by docking this console to the TV, it allows you to experience the game on the big screen as you embark on this South Park adventure. In tablet mode, the game works well and even though it's a smaller size, the gaming mechanics and graphics works well on the Switch.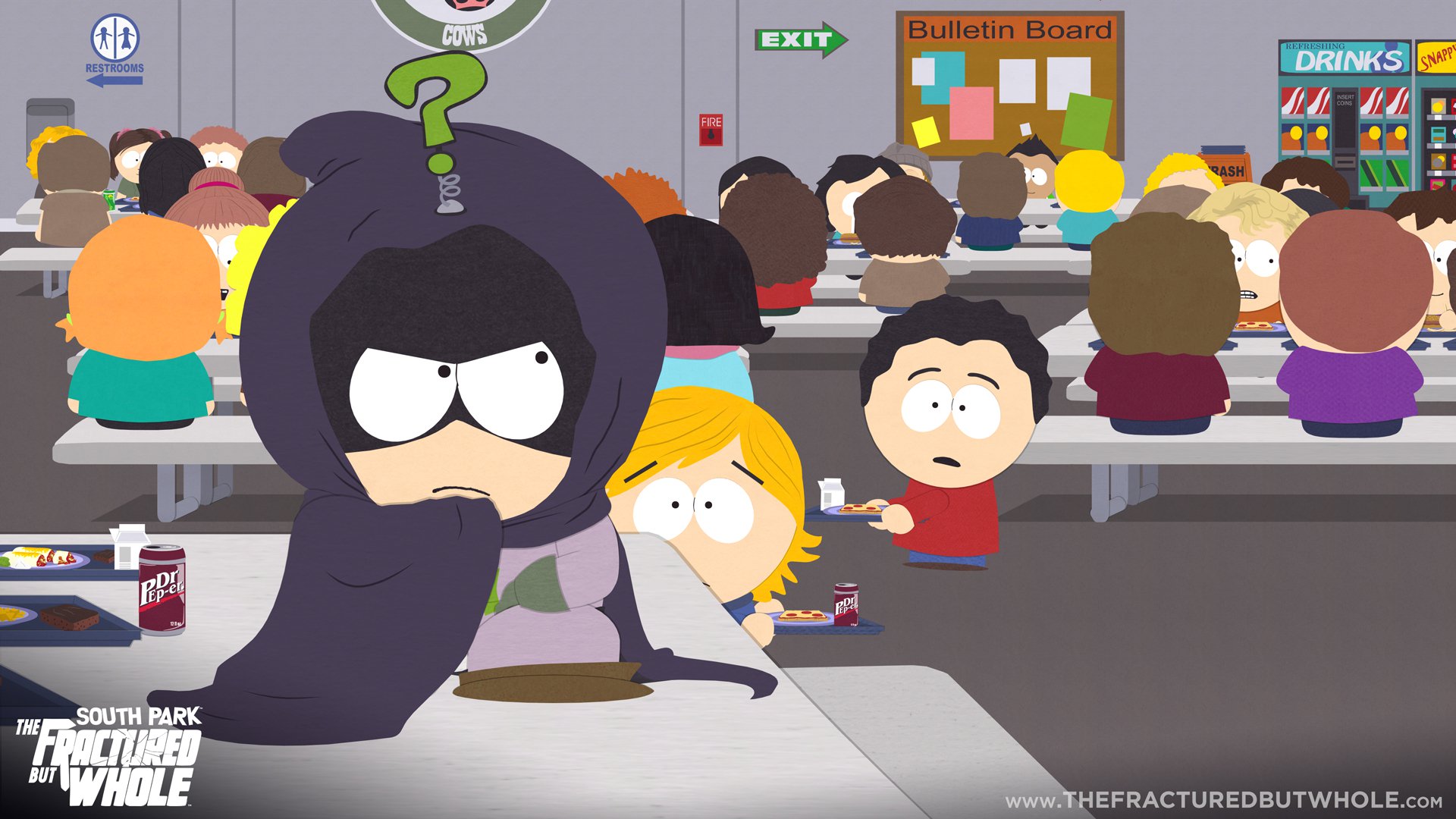 Furthermore, this game follows on from the original South Park game, 'The Stick of Truth', in every way. Presenting a slick evolution of the turn based RPG game style which was much adored by fans. However, while the original was laden with references from 15 years of the classic series, The Fractured But Whole presents a far more 'generic' experience with less inside jokes and throwback memories, replaced with fart jokes and shock (homoerotic) humour. While this makes the game more open to non-South Park fans, the hardcore among us are left feeling a little empty, with a desire to return to 'The Stick of Truth' to help Lemmywinks or the Underpants Gnomes one more time.
It starts with a missing cat, but soon Eric Cartman's alter ego 'the Coon', and his superhero buddies find themselves the only hope to rid South Park of its dark underbelly of crime. And while a noble cause exists, in true South Park fashion the much more important quests are to battle other rival superhero groups, gain 'Coonstagram' (instagram) followers, and become smothered in fame and fortune.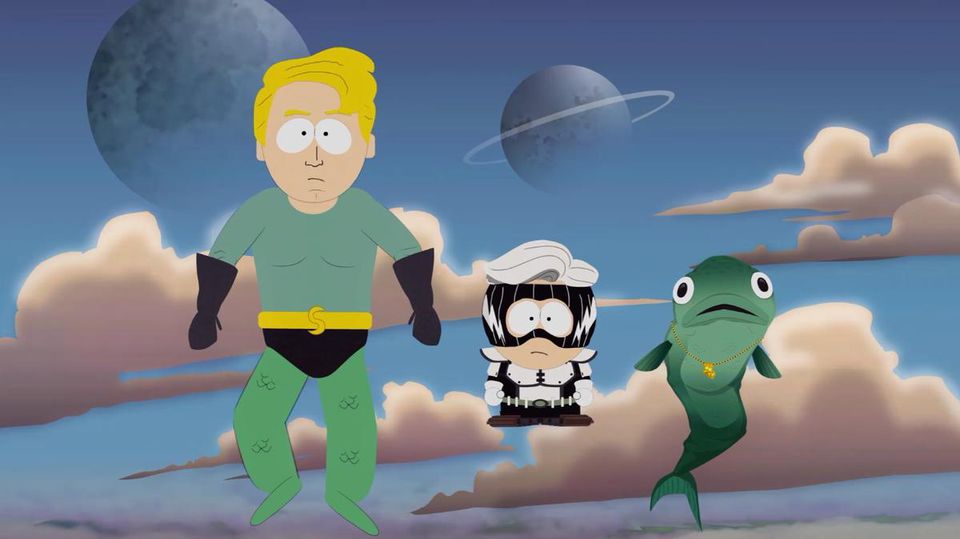 Creating your superhero, complete with a funny Cartman style back story, and South Park style kryptonite (think Crab People). You will also choose the level of difficulty based on skin colour (but don't worry this doesn't affect combat, just every other aspect of your life). From here you will explore environments, interact with objects (including pooping in people's toilets), complete quests for fame, and of course engage in turn-based RPG combat.
The superhero team, and their unique powers and combat animations, provides depth, variety, and challenge to keep you entertained. And while enemies (like wine drunk Randy, who was a notable highlight) can attack and ambush you at any point of the game, I liked how you could wiggle around enough to whack them first to give you the 'combat advantage' of having the first turn. Combat takes a significant (and upgraded) step forward in both challenge and substance, by using a combat grid to highlight different squares depending on the character and their power ability.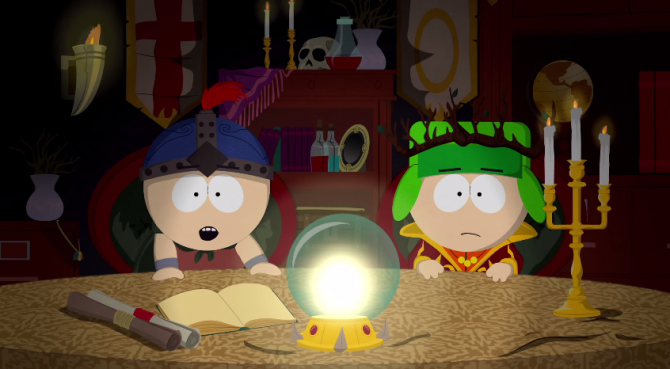 The rest of the game involves a variety standard RPG primary and side quests (like finding food ingredients for Morgan Freeman) to encourage you to explore South Park and engage in battles for dominance. And while the individuality of each fight keeps the game moving and the player engaged, the re-use of the town setting from the original game makes the exploration experience less exciting the second time around.
Graphics and Audio
The voice acting is flawless and the graphics are beautifully animated in the famous 2D South Park style but I found the text and icons used on the map to be a bit on the small (squinting) side. The dialogue is entertaining throughout, remains unique and clever, and is the clear highlight of the game. Every battle and quest is full of banter and is customised based on your superhero background and party makeup.
Final Thoughts?
Has South Park: The Fractured But Whole been Switched? The answer is yes as the Nintendo Switch version works quite well on this console. I would have preferred some more Nintendo Switch exclusive features but when am existing game is already this component, sometimes it's best to leave it how it is. Furthermore, the Superhero context and Civil War setting between rival superheroes is excellent and I especially liked how there are modern references to online and social media. And while the game presents a slick RPG experience, dynamic combat, and plenty to explore and do, the focus on more generic fart jokes and lack of depth of South Park 'history' jokes leaves the game feeling more video game generic, and less South Park specific but nonetheless, still worth checking out, especially if you're a fan of this franchise.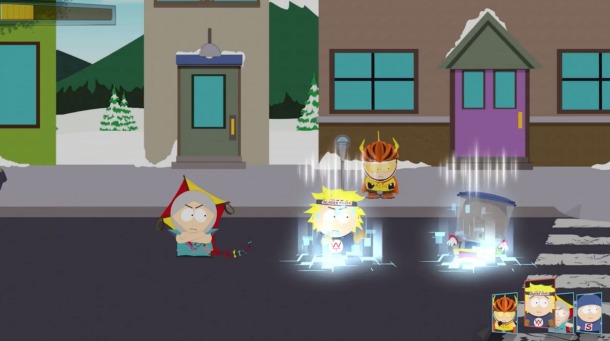 Game Details
Title: South Park: The Fractured But Whole
Publisher: Ubisoft
Developer: Ubisoft, Ubisoft San Francisco, South Park Digital Studios LLC
Genre: Role-playing Video Game
Rating: R 18+
Platforms: Nintendo Switch (Reviewed), PS4, Xbox One, PC
Key Features
Play South Park Anytime, Anywhere – The outrageously offensive superhero adventure is now available on Nintendo Switch. Enjoy the full South Park: The Fractured But Whole RPG adventure anytime, anywhere.
A Hero's Origin Revealed – Every hero has a beginning. Are you an alien, a high-tech wonder, or a genetically altered mutant? Create your own one-of-a-kind costume, craft your origin story, and build out your unique superpowers to become the hero this city needs.
Explore South Park at Night – Not only has South Park grown with new places to explore and new characters to discover, but when the sun sets, havoc and chaos reign as the seedy underbelly of South Park comes alive. At night, a whole new world opens up where your alter ego can harness its powers to do whatever it takes to save the town.
Coon and Friends, Assemble! – Recruit up to 12 members of Coon and Friends to your cause, including Mysterion, The Human Kite, and the infamous Coon himself. Combine your special powers with the heroes from Coon and Friends to eliminate anyone that gets in your way and defeat the dark power that has spread its evil tentacles over South Park.
An Outrageous RPG Adventure – An all-new dynamic combat system offers new opportunities to manipulate time and space on the battlefield, and a revamped looting and crafting system gives you the freedom to develop and refine your powers as you progress through the game. Find loot hidden throughout the land and follow recipes to craft your own outrageous equipment to aid you in battle.
Authentic South Park – This highly anticipated sequel features more than twice as much content as South Park™: The Stick of Truth™. Created, written, voiced, and directed by Trey Parker and Matt Stone, South Park™: The Fractured But Whole™ is authentic, interactive South Park at its finest – hilarious, outrageous, and a whole lot of fun.