Hardware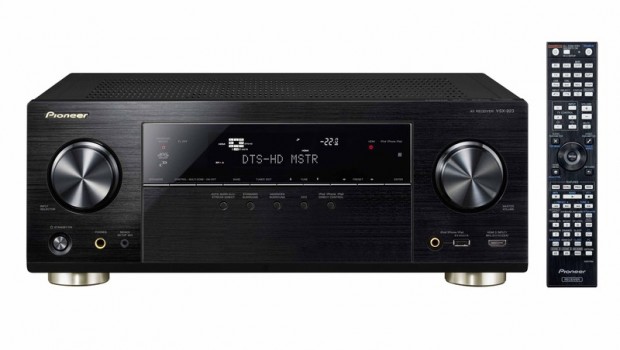 Published on November 12th, 2013 | by admin
A sound choice!
If you're looking for a quality home audio entertainment system and some cracking speakers that won't require you to re-mortgage the house, look no further than the Pioneer VSX-923 amp and the Pioneer FS52 speakers. Combined, these products pack some mighty punch.
The Pioneer VSX-923 amp has the capacity to connect seven speakers and two subwoofers. That's a lot of sound! You can wirelessly control this unit from your phone, tablet or computer. It also has eight HDMI inputs which means you can connect your TV, CD player, DVD player, Blu-ray, Foxtel unit, game consoles, laptop, camera and DVR.
This incredible amp allows multi-room sound and can control many devices at once. With this unit the kids can be playing Xbox in the lounge room while the adults listen to music in the dining room and kitchen. Use your phone, tablet or computer to control the volume of each.
The PioneerVSX-923 is also Wi-Fi ready*, which means you can discover the endless delights of Pandora and Spotify. Airplay is built in so you can quickly and wirelessly stream music from your i-devices by simply pressing the airplay button that will appear automatically on your screen. It honestly could not be simpler. It caters to the Android equivalents also.
A great amp of course requires great speakers. The Pioneer FS52 speakers are a really great sounding mid-range option. Designed by Pioneer's Chief Engineer, Andrew Jones, these speakers certainly give you enormous bang for your buck. With well over 30 year's experience and countless awards, Andrew's main role at Pioneer is the design of their flagship TAD speaker range, which retail just under $100k. For the Pioneer FS52 speakers project he wanted to show that lower priced speakers shouldn't equal low levels of design excellence. One demo will show you he has achieved his goal. The FS52 Speaker Pack includes two floor standing speakers, two bookshelf speakers, a centre speaker and a subwoofer.
This 5.1 channel surround sound system makes those car chase and explosions scenes seem totally real! And whether you're into Metallica, Fleetwood Mac or The Bad Seeds, the sound quality will blow you away!
The Pioneer VSX-923 and FS52 are available from Harvey Norman stores and online at pioneer.com.au.
Amp RRP $1099, speakers RRP $1299.
This system is one sound purchase!