Games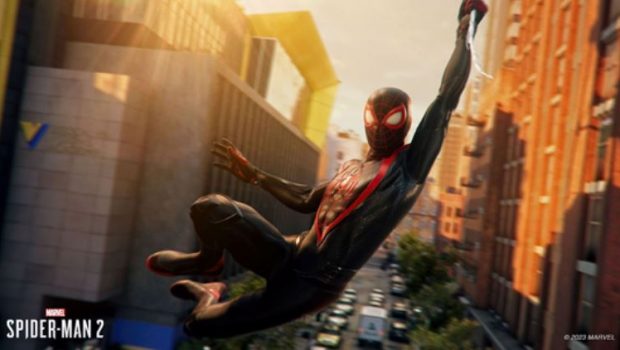 Published on October 5th, 2023 | by Adrian Gunning
Sony Interactive Entertainment debuts new spot for Marvel's Spider-Man 2
To celebrate the launch of the highly anticipated PlayStation 5 (PS5) video game, Marvel's Spider-Man 2, Sony Interactive Entertainment is proud to debut and share its new cinematic spot for the latest adventure in the critically acclaimed Marvel's Spider-Man franchise. Spider-Men, Peter Parker and Miles Morales, will face the ultimate test of strength inside and outside the mask as they fight to save the city, each other and the ones they love.
Marvel's Spider-Man 2 allows players to swing, jump and utilise the new Web Wings to travel across an expanded Marvel's New York, quickly switching between Peter Parker and Miles Morales to experience different stories and epic new powers, as they battle against new and iconic Marvel Super Villains – including an original take on a symbiote-infused Venom, the ruthless Kraven the Hunter, the volatile Lizard, and more from the Marvel Rogues' Gallery.
Marvel's Spider-Man 2, is also built from the ground up to take advantage of the immersive technology available only on PS5.
Marvel's Spider-Man 2 PS5 Features:
Stunning visuals – Explore beautiful and vibrant new environments, like the boroughs of Queens and Brooklyn, as Marvel's New York is brought to life in spectacular fashion.
Haptic feedback – Feel the power of Spider-Man! The responsive vibrations of the DualSense wireless controller bring Peter Parker's symbiote abilities and Miles Morales' bio-electric skills to players' fingertips.
Adaptive triggers – Master acrobatic moves, execute thrilling combos and experience the breathtaking excitement of web-swinging traversal through the DualSense wireless controller's adaptive triggers.
Ultra high-speed SSD – Experience the power of the PS5 console with lightning-fast load times for near-instant character switching across different parts of the city, fast travel and new Web Wing traversal for quicker exploration of Marvel's New York than ever before.
Tempest 3D AudioTech – Become immersed in Marvel's New York as 3D spatial audio creates unique soundscapes all around players. Pinpoint the sounds of webs, bio-electric powers, bustling traffic, responsive New Yorkers and dangerous enemy attacks.
Marvel's Spider-Man 2 launches globally on October 20th, 2023.