Games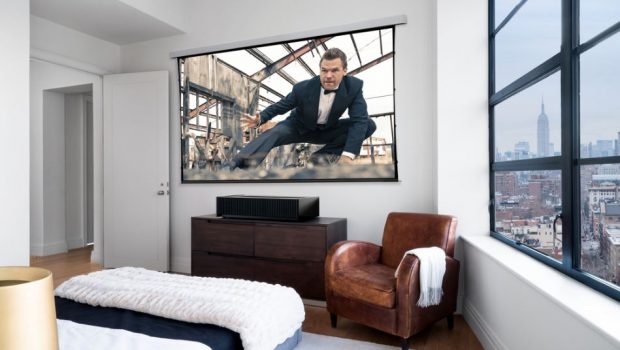 Published on May 18th, 2017 | by admin
Sony ANZ launches new VPL-VZ1000ES true native 4K HDR
Ultra Short Throw home theatre projector begins new era of home displays
Sydney, 18 May 2017 – Sony has launched a new era of home displays with the VPL-VZ1000ES native 4K HDR Ultra Short Throw home theatre. As a major expansion of its ultra short throw home theatre line up the VPL-VZ1000ES is designed to integrate easily into people's homes. This latest innovative laser light source projector is High Dynamic Range (HDR) compatible with native 4K resolution and can be positioned as little as six inches away from the wall, yet command the room with a 254cm (100 inch) image, measured diagonally in 16:9. When powered off, the compact and elegant VPL-VZ1000ES virtually disappears into the décor. It is now possible to have an immersive viewing experience for a wide range of residential applications, from a home theatre to a living room or bedroom, no matter what the design or layout of your home is.
Group Manager – Business & Institutional Sony Professional Solutions Brad Hanrahan said, "Our revolutionary new ultra short throw projector delivers incredible native 4K HDR imagery just inches away from your wall, then fades into the existing room design once turned off. It really is the only projector that can deliver true, native 4K HDR pictures from the lens to the lounge. Up until now home cinema enthusiasts have needed a dedicated room for watching projected content; this isn't always ideal, since not everyone has the luxury of extra space to accommodate an extra-large screen. The new VPL-VZ1000ES changes this dynamic completely, providing an enchanting home theatre experience up to 120inch in your existing living space. Put simply, this projector can replace any TV and give you a better viewing experience."
The VPL-VZ1000ES is approximately 925 x 494 x 219mm in size and weighs about 35kg, making it small and light enough to complement virtually any decor. This is approximately 40% smaller than the currently available Sony VPL-GTZ1 4K ultra short throw. Despite its compact size and lower price, the VPL-VZ1000ES generates 2,500 lumens of colour light output, 25% brighter than the VPL-GTZ1. Sony's advanced SXRD™ panels, coupled with the Z-Phosphor™ laser light engine, produce high dynamic contrast, enhancing the highlights and lowlights of HDR content. The VPL-VZ1000ES projector's Z-Phosphor laser light source hits peak brightness much quicker than conventional projector lamps. Brightness and colour accuracy are also maintained longer, reducing the inconvenience of lamp replacement.
The unique form factor of the VPL-VZ1000ES opens up a whole new set of usage scenarios. It is the ideal projector for large display sizes in small spaces, as well as locations with high ceilings. And since the projector is mounted in front rather than behind the viewers, there are no issues with shadows or obstructions from ceiling lights or fans. You can turn any wall into a life-sized window to another world. For modern houses and apartments with large windows and limited wall space, a drop down screen in front of the window enables great viewing of TV, movies and sports. When the show is over, raise the screen, and once again enjoy your view.
This breakthrough new projector allows consumers to have a huge screen in their living room with a simple elegant installation available for the home. This makes the VPL-VZ1000ES unlike anything consumers have ever experienced before in home cinema viewing and ultra short throw projection.
The VPL-VZ1000ES ultra short throw 4K HDR home theatre projector is available now from Authorised Sony Professional Dealers for an SRP of AUD$30,999 and NZ$32,999.