Blu-ray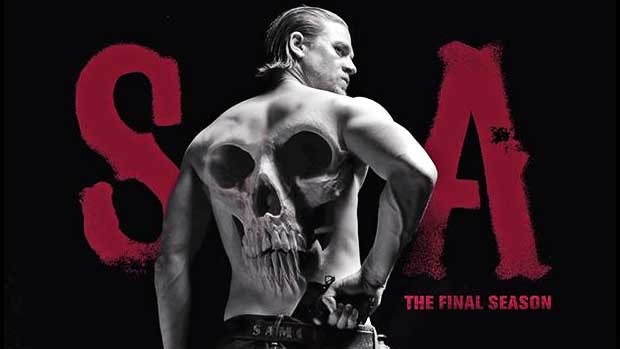 Published on September 24th, 2015 | by James Wright
Sons of Anarchy The Final Season Blu-ray Review (Season 7)
Summary: Sons of Anarchy The Final Season ends this series on a high with all questions answered and a great way to conclude this amazing story
After seven years, Kurt Sutter's Sons of Anarchy comes to finish with its final and probably one of its most spectacular seasons to date as we see the end of Jackson "Jax" Teller's (Charlie Hunnam) story. So after the devastating closure of season 6 that saw Tara murdered by Gemma (Katey Sagal), she tried to cover up the crime by telling Jax that Henry Lin's gang was responsible. It probably didn't help that Jax was mourning the loss of Tara behind bars which really fuelled his thirst for payback and god help anyone who got in his way.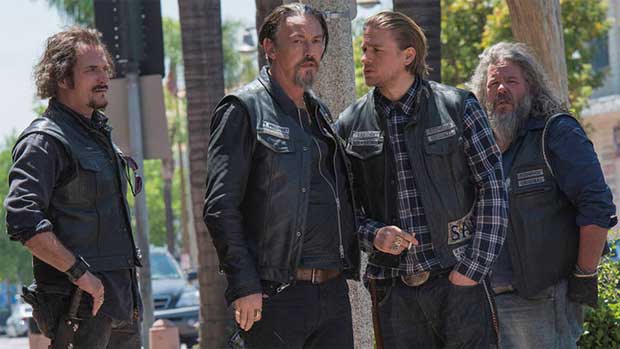 Needless to say, this makes vengeance a top priority for not just Jax but also his gang SAMCRO which leads to some stellar confrontations as the body count goes up. As a result of Jax's vengeance, this also takes a toll on the gang and really brings their leader to a dark place and as the episodes roll by, it really draws the viewer into the individual stories, especially the truth when Jax finally learns who killed his soulmate. It's also interesting to see the dynamic between Gemma and Juice (Theo Rossi) play out, particularly because both hold information over each other, one being a murderer and the other a traitor.
However to make matters worse for SAMCRO, a new sheriff (Annabeth Gish) is investigating the murder of Tara who forms an alliance with Unser (Dayton Callie) which causes an almost game of chess between the police and Juice. Given that, my only gripe in Season 7 is that during the middle, the main storyline gets side tracked a little, especially after the brutal attack on the Chinese gang. Needless to say, it doesn't take too long for things to get back onto track with another one of their own getting killed and a confrontation between Jax and Gemma.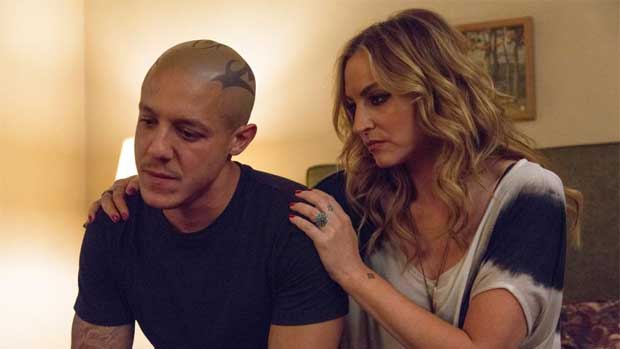 With 13-episodes on this release, the creators continue to flesh out SAMCRO and its members which really add to the realism of this story. Another highlight of Sons of Anarchy the Final Season is seeing Jax continue growing as a character and even though he's made some foolish decisions as leader of SAMCRO, he does mature as the final few episodes are played, even destroying the clubs "unwritten bylaw" which is quite a philosophical way to end this spectacular series.
To complement the powerful themes in the final season, Sons of Anarchy features some very strong actors that is led by Charlie Hunnam who really captures this torn individual between his father's legacy and living in that "grey" lawless area. Then you have Katey Sagal who plays Gemma whose character has really kept things in place and seeing her deal with the murder of Tara is quite riveting. Jimmy Smiths (Nero) also grows in this season as does Drea de Matteo as Wendy Teller who all add another layer of realism, drama and intrigue into their storylines.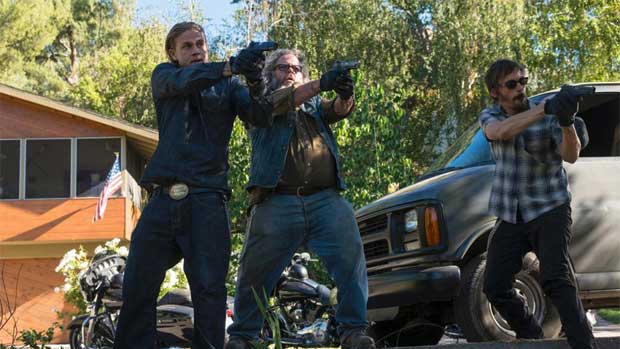 Episode Listing
Black Widower
Toil and Till
Playing with Monsters
Poor Little Lambs
Some Strange Eruption
Smoke 'em if You Got 'em
Greensleeves
The Separation of Crows
What a Piece of Work Is Man
Faith and Despondency
Suits of Woe
Red Rose
Papa's Goods
Video, Audio & Special Features
Season 7 is beautifully presented on Blu-ray with some exceptional video quality with deep blacks, vibrant colours and no artifacting whatsoever. Audio is equally impressive with its DTS-HD master audio track which produces good levels to support the dialogue, sound and music. A special mention should also be made to the music thanks to Bob Thiele Junior which really tugs at your emotions. This release also boasts some great features from classic Gag Reels to a featurette on the final season which really takes you behind the scenes of this immersive story. The featurette Anarchy Legacy was another interesting documentary about the series and how legacy played a key role in SAMCRO.
Deleted Scenes
Gag Reel
Carpe Diem: The Final Season of Sons of Anarchy
Anarchy Legacy
Bikes of Sons of Anarchy: Motorcycles of Mayhem
Guests of Anarchy: Season 7
Promotional Shorts: Tattoo Stories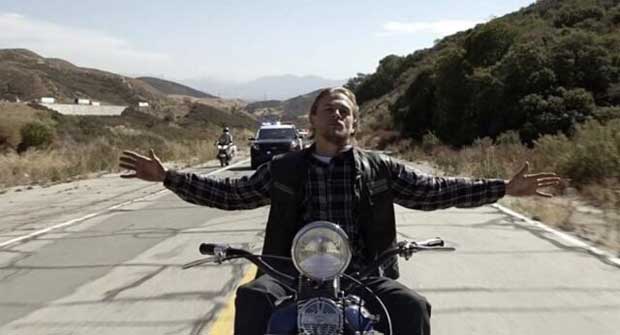 Final Thoughts?
So here we are again, the last season of Sons of Anarchy which although had its highs and lows, the series definitely ends on a satisfying high with most of our questions answered. Seeing Jax take the club through hell again, especially his revenge motive may have led to the destruction of this club but somehow in all this chaos, he managed to grow and even redeem himself through all the atrocities he has committed over the years, both for the club, family and himself. It's sad to see Sons of Anarchy end but fortunately it ends on a high and after 7-seasons, that can sometimes be a challenge.
Recommended!
Blu-ray Details
Actors – Charlie Hunnam/Katey Sagal/Kim Coates/Mark Boone Junior/Tommy Flanagan/Theo Rossi/Dayton Callie
Film Genre – TV Drama
Label – 20th Century Fox
Audio – English (DTS-HD 5.1)
Aspect Ratio – 1.78:1
Region Coding – B (Blu-Ray)
TV Standard – PAL
Rating – MA15+
Year of Release – 2014
Primary Format – Movies/TV – Blu-Ray